The Martina Arroyo Gala is a much anticipated event on the social calendar and the cause could not be better! The mentoring of young opera singers of diverse backgrounds and preparing them (six weeks of intensive study plus a stipend) to participate in Prelude to Performance where they get to perform in a fully costumed and staged production with full orchestra at the Kaye Playhouse at Hunter College. The "literati" and "glitterati' from the world of opera, theatre and fashion merge to form a tribute to beauty and the arts. The famed JW Marriott Essex House in opposite Central Park was the sparkling venue for this coveted night of "stars."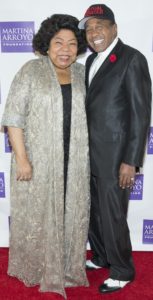 The cocktail hour included many items to be sold at a silent auction. We spotted Broadway actors dancer & singer Ben Vereen, actress singer Christine Ebersole and Broadway and TV's Mario Cantone, cabaret singer Marilyn Maye, PBS's Midge Woolsey, Advisory Board member and her husband economist Dr. Jerry Stolt. There was also a bevy of famed and familiar faces from the triple blend from the movers and shakers of opera, entertainment and fashion. Met tenor and fellow Sicilian Anthony Laciura with his wife Joelle and New York City Opera and Met tenor Richard Leech, both active with the Martina Arroyo Foundation. Once in the dining area, the great lady herself, Martina Arroyo, looking radiant in gold and silver, welcomed the guests and spoke eloquently about the great pride she has in furthering the careers of these incredibly talented young people.
Radio host WQXR, Terrance McKnight introduced three special guests, beginning with Adrienne Landau, famed American couture designer who described how opera and film director Franco Zeffirelli, early in her career liked her products and her sense of fantasy and bought many of her scarves for his friends for the holidays. Her message is to "believe your dreams."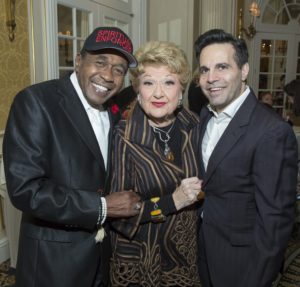 Jeanine Tesori, composer and musical arranger won a Tony award for Fun Home. She spoke passionately about composing in a man's field without it becoming a mine field and the importance of being dedicated and never giving up.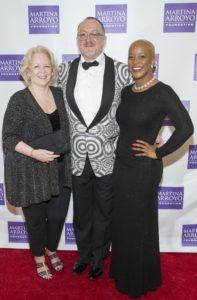 The third honoree was Broadway actress and singer Christine Ebersole, who told the audience that nobody works harder than these young opera singers.
With conductor Steven Crawford at the piano, the music began with the third act of Puccini's La Boheme.
Yunnie Park was Mimi, her radiant soprano caressing the ear and her poignant voice the soul, as she sang "Addio, Senza rancor." Her distraught Rodolfo, Dangelo Diaz whose ardent tenor flooded the house "Addio sogni d'amor" in their duet was a perfect blend of singing and acting.
Seok Jong Baek was the exasperated Marcello, his lyric baritone engaging in banter and insult with Musetta and always pleasing to hear.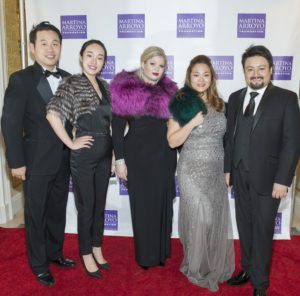 Musetta, Holly Cameron, moderated her shimmering soprano voice, never strident, but strong in her arguments with Marcello. Both couples agree to stay together, until spring. Beautiful break up and make up ensemble singing!
Dinner was served followed by a "live" auction with rapid banter auctioneer Warren Adler selling off some wonderful items including a week in Paris and a week in London!
Excerpts from Johann Strauss II's Die Fledermaus followed. Hongni Wu sang a witty "Chacun a son gout" from Act Two. Her rich, dark mezzo plumbed the plummy depths of this aria and it was a tour de force triumph just as it was in last July's Die Fledermaus at Prelude to Performance.
The Act One scene trio followed with rising soprano star Maria Natale as a sparkling, radiant voiced Rosalinde, coloratura soprano Shana Grossman repeating her savory saucy Adele and matinee idol tenor Jonathan Tetelman as Eisenstein. He was also in last July's excellent production of Die Fledermaus and his change from baritone to tenor repertory is coming along very well indeed!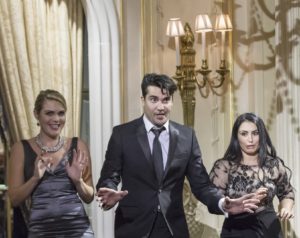 Maestro Stephen Crawford who conducted the Prelude to Performanceorchestra last July was the superb accompanist.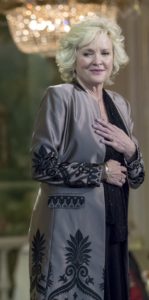 Opera Index treasurer Murray Rosenthal presented the award to Broadway great Christine Ebersole. Christine Ebersole sang a Harold Arlen ballad from Bloomer Girl "Right as the Rain" without a mike in a lovely, clear expansive soprano that wrapped itself around the ear and heart of us all, brava!
After dessert and closing remarks by Terrance McKnight, Grammy award winning musician and saxophonist Paquito D'Rivera, accompanied by Daniel Freiberg played a sensual "Libertango" by Astor Piazzolla followed by a jazzed up "Quando me'n Vo" by Puccini and some jazz improv in which could be heard The Donkey in the Grand Canyon Suite.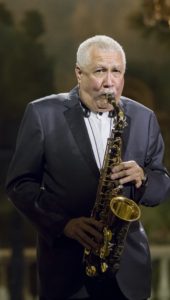 Special thanks to honorary Gala chairs, Donna and Richard Esteves and Andrew Martin-Weber, all who were so diligent on behalf of this exciting evening.
We thank Martina Arroyo, Kennedy Center Awardee, legendary Metropolitan Opera soprano and musical pioneer and beacon for future stars. Martina's beloved Dad Demetrio worked as an engineer at the Brooklyn Navy Yard to pay for her musical education. Martina fondly recalls the baseball games and the hot dogs from Ebbets Field that he brought her as a reward for her efforts.
The Board of Directors gave special thanks on the beautifully printed program to Martina Arroyo, Norena Barbella, Marcia Green and Helen Chang.
Our host at our table was Advisory Board Member Stephen De Maio President of the Gerda Lissner Foundation, with board members Karl Michaelis, Vice President Michael Fornabaio, patrons Barbara Ann Testa and Gloria Gari from the Giulio Gari Foundation and pioneer Maestro Eve Queler from Opera Orchestra of New York who also graced our table.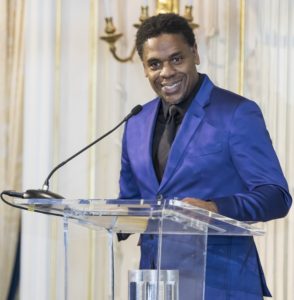 It was fun to meet with honorary gala co-chair and Vice President Andrew Martin-Weber whose big league bravos were a joy to hear. I dubbed him the "Caruso of bravoers"!
As we left homeward bound we chatted with famed radio personality WQXR Nimet Habachy with Mr. Maisel, past awardee Michele Angelini internationally acclaimed Met Opera tenor and Martina Arroyo awardee told us of his family roots in Park Slope, Brooklyn.
All of this glitter and glory is for giving the fresh young talented singers a "push" toward attaining their goals and thus ensuring this beauty parched planet, a future with opera and music and the joys therein. Brava Martina Arroyo and thank you and the Martina Arroyo Foundation for letting in the sunlight of enlightenment and hope!