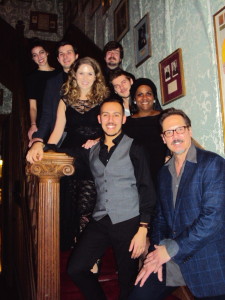 On the evening of Saturday, December 5th we were revitalized to be present at the Casa Duse Supper Club's enticing new series of a "Fall Festival of Music" in conjunction with the "New Place Players" a month of extraordinary music, wine and food to welcome the holidays! The Casa Duse Supper Club is located at 16 Prospect Park West in Park Slope in a 19th century townhouse named after the legendary Italian actress Eleanora Duse. (1858-1924) It was so named because of its late former owner Duse's godson, Michael Waldron and the spirit of Duse he embodied. The walls of this charming dwelling are filled with signed photos of Duse, Stanislavsky, Olivier, Gielgud, Barrymore, as well as soprano divas; the imperial Zinka Milanov, legendary Joan Sutherland, great tenor Luciano Pavarotti and the "king" of tenors Enrico Caruso and many other opera and theater immortals. Joan Sutherland and her husband conductor Richard Bonynge occupied the Casa Duse for years as guests of Martin Waldron during their seasons at the Metropolitan Opera. When Martin Waldron passed away in 2009,our affable host Robert Krakovski started the Casa Duse Collective parlor salon, to honor and perpetuate his mentor and keep his spirit alive.
The truly unique intimacy of an event at Casa Duse and its rich history in itself makes for a memorable night. Whether a New Place Players gourmet Shakespeare salon under the brilliant stewardship of Craig Bacon, or live music by world class artists in the living room of the historic home across from Prospect Park, the experience is magical!
Ben Chavez a talented young man from New Jersey did a show entitled "Out of NYU, Paying DUSE! A tribute to Mentors and Musical Inspiration!" Back by popular demand, this affable and talented rising star offered us a feast of standards, pop sounds and original compositions.
The first part found the gifted Ben Chavez at the piano evoking memories of Hildegarde, Liberace, Nat "King" Cole and others who charmed past generations with piano and song. Chavez offered us generous portions of Bill Joel including a wonderful "New York State of Mind."
In his reflective banter, Chavez revealed that one of the things he learned is the tragedy of leaving life "not to have given enough of ourselves." Indeed in some of his jazz selections his concentration almost transformed the music into an intimate Scarlatti piece.
Looking around the room, twenty or so tables, each with a red rose, young faces eager, enthusiastic and joyful, made for a perfect Saturday night.
Chavez regaled his audience with "Sometimes it takes a while" and "Just the way you are." He then discussed some of Frank Sinatra's influence and Ray Charles' "A baby grand-all it takes is the power of my hands."
Then "You all rise up with your hands-make a joyful noise, rise up" and "I was ready for someone to hold me-Love to the rescue again." His superb backup singers were sopranos Monet Sabel and Jenisa de Castro and the tenor of Matthew Stoke. A perfect blend-each worthy of solo careers!
After a brief intermission, the second part of the program opened with one of my all-time favorite Spanish songs, "Amapola." Chavez commented that he heard it sung by Andrea Bocelli. This love song goes way back to legendary tenors Tito Schipa, Jan Peerce and the great Alfredo Krauss. It was also a "pop" hit in the 1940's. Chavez, whose pleasing baritone proved itself worthy of this genre, was accompanied on the piano for part two by Mark T Evans whose wonderful pianistic virtuosity evoked the colors of Debussy.
This was followed by" Fabrizio's love song" from the musical "Light in the Piazza" a Lincoln Center hit a few years ago. Chavez, who is also a noted composer, admired this work by Adam Guettel, who is the grandson of the great Richard Rogers.
A charming duet followed titled "Something Stupid" with Michele Ivey. This was a big hit with Frank Sinatra and his daughter Nancy in the 1950's. Ms. Ivey's sumptuous soprano tapered its size for this perky novelty.
A Gershwin medley included a heartfelt "Embraceable You." Chavez also did a bit of tap dancing to an old Fred Astaire tune with his many fans cheering. Chavez's finale was a Sesame Street (Elmo) Christmas song that he recalled from his youth. "Think of the day, when Christmas has gone away" reassuring the children that Christmas is a moveable feast!
Another encore was "I'll be seeing you" with a wonderful  high note and pianissimo finale. This sentimental song was Liberace's closing theme song. Actor-singer Austin Davidson in a brief duet with Chavez, rounded out the potpourri of talent that made this evening so special!
The elegant host-producer Robert Krakovski who is the true spirit of Martin Waldron, who reigned at the Casa Duse for 50 years, had reason to smile as did the ghosts of the great artists photos on the wall, because the Casa Duse is alive and keeping the spirit as in Dickens' "A Christmas Carol" past, present and future."
Future programs are:
Friday Dec. 11th – at 6:30pm Emirhan Tunca & Andrew Sun-Cello & Piano Duo
Sat. Dec. 12th – at 6:30pm Latin & Jazz Cabaret with Horacio Martinez & Friends
Sat. Dec. 19th – 6:30pm Theresa Kloos & David Raimo "Christmas in New York"
Sun. Dec. 20th – 6:30PM Jazz Sunday with the Sam Dillon Trio
For tickets & information visit: www.16casaduse.com