On the evening of Monday, October 29th, the Martina Arroyo Foundation celebrated its 14th Anniversary at the JW Marriott Essex House in New York City. The program honored Simon Estes, Metropolitan Opera bass-baritone and Rufus Wainwright, singer songwriter and composer, and Maestro Anton Coppola, conductor and composer who received the Michel Maurel Award for Lifetime Achievement.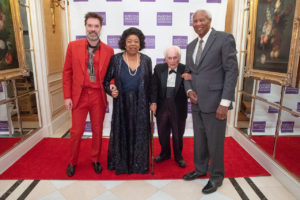 Martina Arroyo welcomed one and all and truly is a beacon of light for the promotion of young opera singers. "The mission of the Martina Arroyo Foundation is to prepare and counsel young singers in the interpretation of complete operatic roles for public performance." This is accomplished through  Prelude to Performance which showcases the singers progress.
The Gala chair was Gary Spector, who spoke briefly and introduced the host for the evening, the iconic Nimet Habachy from WQXR radio whose honeyed speaking voice has charmed millions for decades.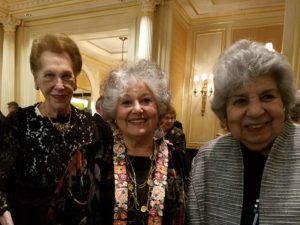 The first awardee was the great bass-baritone Simon Estes who hails from Centerville, Iowa and began his career in the 1960's. He recalled his memories of iconic soprano Shirley Verrett and the charming, witty great Italian basso Cesare Siepi. Mr. Estes regretted not singing with Martina Arroyo. In earlier days on the rise, he recalls singing for 84 companies. His grandfather was a slave and Simon always used his grandfather's love of the Church to enhance his belief that "justice is stronger than injustice." Helping children and giving them spiritual nourishment makes him a messenger of good today. He teaches master classes throughout the country and currently is a professor at Iowa State University. I remember Simon Estes when I was a young man in Bensonhurst, Brooklyn and I loved the special richness and power of his voice. To me, he was always a pioneer and a hero. It was humbling to meet and greet the great Simon Estes.
The second awardee was Rufus Wainwright singer, songwriter and opera composer. He was introduced by musicologist Cori Ellison who admired  Mr. Wainwright's love of opera and his work. I was surprised and inspired by his opera Prima Donna which evoked some of the best in Louise by Charpentier and Tosca by Puccini – but had its own distinct sound and momentum. His newest opera, Hadrian was favorably reviewed by The New York Times critic Anthony Tommasini. Mr. Wainwright, looking Mephistophelian in red including his shoes, told the audience of his talented singing parents and his boyhood in Toronto, Canada. "There were tenors aplenty" on the phonograph and he especially recalled the great Italian tenor Beniamino Gigli. Music was all around the house and opera gave them all harmonic happiness. He loved Giuseppe Verdi's music. Wainwright's enthusiasm and his friends were all there to lend support.
Soprano Maria Brea sang the wondrous aria "Depuis le jour" from Gustave Charpentier's (1860-1956) Louise. Ms. Brea sang with a lovely mezza voce and rhapsodic full voice. She floated tones heaven bound and reached ecstatic vocal climaxes that dazzled and thrilled. Maestro Stephen Crawford caught all of the color and sparkling radiance of the music in his superb accompaniment.
The great Scottish-American soprano Mary Garden (1874-1967) who dazzled the French with herLouise in 1900 was the rage of Paris. Louise was a unique opera and composer Gustave Charpentier wrote a sequel called Julien but it never surpassed Louise. Enrico Caruso courted his American bride Dorothy in his Julien costume. Mary Garden made a haunting recording of "Depuis le jour" in 1926. As a young woman she lived on President Street in Brooklyn near Park Slope. I met her at The Brooklyn Academy of Music in 1951. She was in her late seventies and lecturing on her autobiography that was just published. In 1920, she became the head of the Chicago Opera. Her film of Thais made her even more notorious. She never sang as a member of the Metropolitan Opera but had a long career in Chicago and she did appear with Enrico Caruso in concert. I kissed her hand and years later Maria Jeritza's hand. Two legendary divas and Martina is next, that's for sure.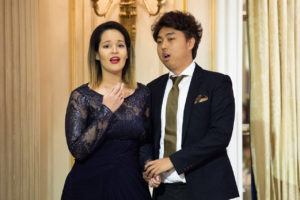 "O soave fanciulla" followed sung by soprano Maria Brea and tenor WooYoung Yoon. Puccini's La Bohème never fails to captivate the listener but this particular moment was special. Judy and I honeymooned at Essex House in 1966 and to see and hear two such singers so rhapsodically entwined recalled the memory. Their voiced blended beautifully and Mr. Yoon was an ardent suitor and she equally so. They ended the duet arm in arm leaving the room with two rhapsodic high C's with power and loving brio! Stephen Crawford's accompaniment was like a full symphony of life and love!
The next performance was by tenor WooYoung Yoon. The familiar "Ah mes amis" from La Fille du Regiment which catapulted Luciano Pavarotti to fame with 9 high C's in the early 1970's at the Metropolitan Opera. Mr. Yoon has a sweet and vibrant tenor with good projection and even flow. He added embellishments to embellishments giving us a double thrill. His upper voice is manly and stratospheric and he seems very comfortable in those high altitudes. But that did not remove the "frisson" that makes this aria so exciting. One must "conquer" the 9 high C's and that he did. Stephen Crawford ably accompanied Mr. Yoon and the thrill was brought forward with this partnership.
Maestro Anton Coppola now 101 years of age attended with his beloved wife Almerinda. We met them at the Columbus Club a few years before when he wrote a song for her, a former ballerina he married long ago. We also met Maestro Coppola at a Verdi Festival at the Casa Duse, where Joan Sutherland lived in Park Slope, Brooklyn. He was always a phenomenon and when asked how he has lived so long he replied, "Pasta Faggioli" (Spaghetti with beans). Bravo Maestro! Maestro Coppola was given the Michel Maurel award for Lifetime Achievement named after Martina's beloved late husband.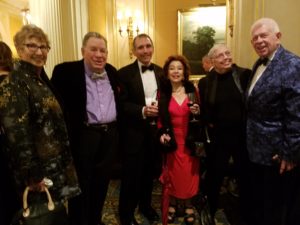 Maestro Coppola was given a mike and he addressed Martina Arroyo with some hilarious repartee in a loud clear voice. She responded with wit and wisdom and the audience in on the joke laughed heartily. In Coppola's new finale for Puccini's Turandot, Empress Turandot guesses Calaf's name and he gets his head chopped off with the others. I personally don't care for a "headless" Calaf but it suits the flavor of our times.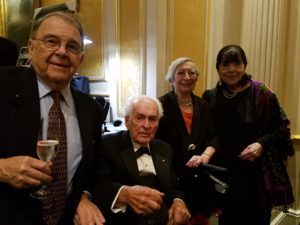 A superb dinner followed and much good talk. We chatted with Met mezzo Jane Shaulis, President of Opera Index, Murray Rosenthal treasurer and composer Philip Hagemann (Popular choral composition Fruitcake) and Janet Stovin who fondly recalled living close to Ebbets Field and the great Brooklyn Dodgers. Janet recalled Jackie Robinson's ascendancy with the team of blessed memory. Former Met mezzo, the effervescent Nedda Casei, was with us as was her most charming friend Diane Gallagher.The debonair Robert Steiner and Faith Pleasanton were also at our table. It was so nice to see the talented soprano Victoria Miningham from the New York Grand Opera. We spoke of the great Maestro Vincent La Selva and his incomparable operas free every summer in Central Park. We discussed recipes with Paolo Petrini and Rigoletto with opera coach Robert Lombardo. Soprano Elaine Malbin still looking every inch the youthful soubrette, Maestro Eve Queler and Cavaliere Eddward Jackson, Met tenor Anthony Laciura and his wife Joel and writer chef Meche Kroop. I discussed Beniamino Gigli with Rufus Wainwright and friends and told him that I saw Gigli at his return and farewell at Carnegie Hall in 1955 when the 65 year old tenor sang his heart out with a dozen arias and another dozen songs from opera and his films, including Mamma and Quanno 'a femmena vo' where he did a "bump." (No grind)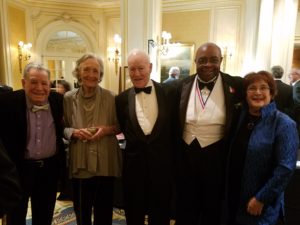 We thank Martina Arroyo, Deborah Surdi (From Sicilian Bensonhurst like me) and everyone who planned this glorious and wonderful event. Her father, the late Demetrio Arroyo, worked as a supervisor at the Brooklyn Navy Yard to help pay for his talented daughter and who today is the great Metropolitan Opera legend, pioneer and source of delight as a teacher and head of the Martina Arroyo Foundation. Her special award at the Kennedy Center Awards made us all proud. Brava!