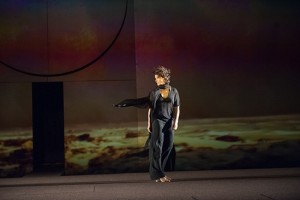 Through Oct. 4, the Brooklyn Academy of Music (BAM) is presenting the Barbican production of poet Anne Carson's new, colloquial translation of Sophocles' "Antigone," starring Oscar Award-winning actress Juliette Binoche and directed by Ivo van Hove (who is also directing two major Broadway revivals this season, "A View from the Bridge" and "The Crucible.") The play is presented in association with the Toneelgroep Amsterdam and co-produced by Theatre de la Ville, Paris, Reclinghausen, Germany and the Edinburgh International Festival. With this illustrious pedigree, Antigone is one of the highlights of this season's Next Wave Festival at BAM.
Since her electrifying breakthrough role in 1985 in Andre Techine's "Rendez-vous," followed three years later by her first English language performance in Phil Kaufman's "The Unbearable Lightness of Being," Binoche has gone on to make an astounding 42 movies, including such noteworthy films as Anthony Minghella's "The English Patient" (for which she won a Best Supporting Actress Academy Award, trumping the odds-on favorite Lauren Bacall), Krzysztof Kieslowski's "Three Colors: Blue, White & Red" trilogy, Lasse Hallstrom's "Chocolat," Michael Haneke's "Cache," Olivier Assayas's "Summer Hours" and last year's "The Clouds of Sils Maria," also directed by Assayas. He has said of Binoche "Hunger and passion are her defining traits … [she] is honest, straightforward, trusting and naive. Once she decides to give, she gives all the way."
If ever there was a role that demands that commitment it is Antigone. As politically and emotionally urgent today as when it was first produced in 441 BC, the play posits the ultimate existential question: loyalty to state or to family?
By telephone, the Brooklyn Eagle started by asking Binoche about the special challenges of performing a Greek tragedy for a modern audience — and why she decided to take on this challenge.
Juliette Binoche: What Greek tragedies give us are myths, and myths are timeless. They are not just stories. They are towering works about transformation. They reflect a tradition that is beyond time. They ask eternal questions. For me, to do "Antigone" is an awakening, a journey. I hope the audience joins me on this journey.
Brooklyn Eagle: You return frequently to the stage in the midst of your busy film schedule. Do you find working in the theatre revitalizes you?
JB: Because my real roots are in the theater — both of my parents were involved with theater — I feel like when I return to the stage I'm returning home. My original goal was to be a theater actor. My film career just sort of happened spontaneously. I enjoy the challenges and satisfactions of both and I feel lucky to have that freedom to go back and forth between stage and film.
BE: Finally, it seems like you are always working — touring in Antigone, filming "Slack Bay" and "Polina," recently completing the films "The Wait," "Nobody Wants the Night" and "The 33." When do you come up for air? Do you allow yourself some down time for family, friends, just sitting in a comfortable chair, reading a good book?
JB: My pleasure is to work. It is a source of constant joy. My kids, who are grown up now, come to see my work. My choice is, and always has been, to dedicate myself to telling stories. We need these stories to learn about ourselves. And then we take what we learn into our real lives. It's a sort of circle.