Saturday afternoon on March 2nd, a beautiful La Bohème was presented at Our Lady of Perpetual Help School by the Regina Opera. Giacomo Puccini (1858-1924) composed this heartbreaking tribute to young, doomed love in 1896. The conductor was Arturo Toscanini (1867-1957) who recorded it with the NBC Symphony with famed tenor Jan Peerce and beloved soprano Licia Albanese in 1946. La Bohème was also the title of an opera composed by Ruggero Leoncavallo, the composer of I Pagliacci which premiered in 1897. Although Leoncavallo's La Bohème has some passionate music and beautiful arias, Puccini's masterpiece was the one that gripped the public and Leoncavallo's work was doomed to obscurity.

The great tenor Enrico Caruso recorded two thrilling arias from Leoncavallo's work "Lo non ho che una povero stanzetta" and "Testa adorata", but the opera lacked the delicacy of Puccini's magical score. The great Verdi Maestro Vincent La Selva with the New York Grand Opera did a performance in Central Park of Leoncavallo's La Bohème with its many enchanting scenes, but it could not touch the heart the way Puccini did. Puccini's La Bohème, based on Henry Murger's novel "Scenes de La Vie de Bohème," had its premiere in Turin, Italy on February 1, 1896. The libretto by Giuseppe Giacosa and Luigi Illica helped ensure its success all around the world.

The new year 1912 was ushered in at the Brooklyn Academy of Music (BAM) with Puccini's La Bohème featuring tenor Enrico Caruso (1873-1921) and famed soprano Alma Gluck as Mimi on January 2, 1912. On December 23, 1913 with the MetOpera on tour in Philadelphia, the famous Spanish bass Andreas De Segurola lost his voice as Colline, just before his big aria "Vecchia Zimarra" and turned towards Caruso, who told him "don't worry, turn your back towards the audience and I'll sing it for you." Nobody knew. Frances Alda, the Mimi said she felt like applauding Caruso from her bed. Caruso made a private recording of it on February 23, 1916 and it is now available. Enrico Caruso – tenor – bass. The cast at the Regina Opera would have made these opera immortals proud.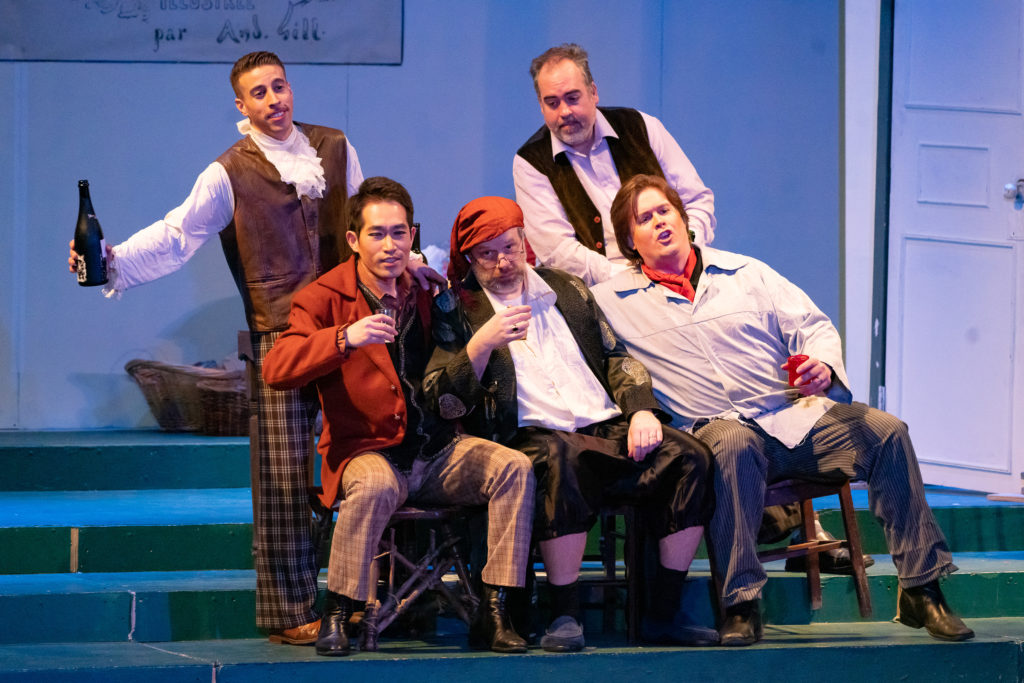 The first two acts take place on Christmas Eve. Mimi, a seamstress, was in the caressing hands of Christina Rohm. Ms. Rohm's singing of "Mi chiamino Mimi" was right up there with the greats. Her rapturous outpourings in her duet ("O soave fanciulla") with Rodolfo were thrilling. Ms. Rohm's pouring out her heart to Marcello in Act Three gave one chills, and her death scene so poignantly done, was as sad as could be. Ms. Rohm's glorious soprano soared to the heavens with the joys of her love and left us utterly alone, along with Rodolfo and her friends at her passing. Ms. Rohm's diminishing her tones, shading her volume, and opening her soul for her beloved Rodolfo, made hers a Mimi to put in your memory bank and withdraw the interest to give you emotional solvency for a lifetime. Her exquisite singing of "Addio senza rancor" echoes in memory. The pathos and poignancy of her words and voice made all feel the strength of her love and the defiance of her terrible illness and the goodness of her soul. In the last act, her sublime singing "Sono andati fingevo di dormire" was indelible and unforgettable. Poor Mimi. Brava – sublime artist Christina Rohm.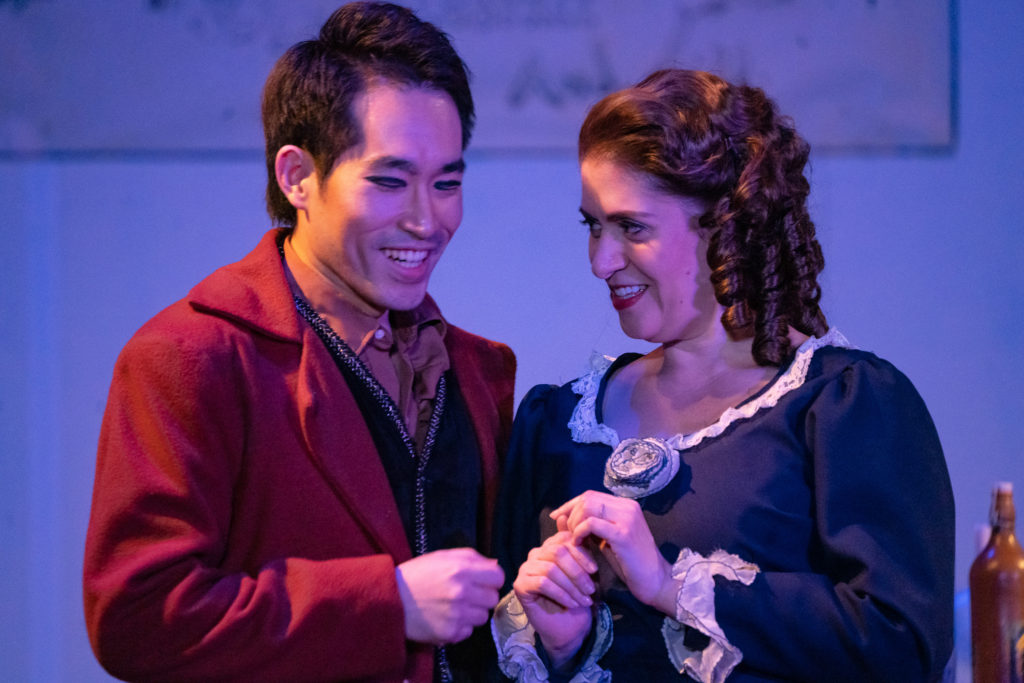 Rodolfo, a writer, was in the handsome and strong countenance of tenor Hyunho Cho who looked the part, tall, lithe, and full of dreams. The iconic aria "Che gelida manina" was sung with additional beauty on its ascendancy. The climactic high C was securely hit and gently held back so that one felt ease and not strain. This is a voice where the top is partially in hibernation on its way to glorious full bloom. His singing of "O soave fanciulla" made for a wonderful outpouring and the offstage climax was exhilarating as two young fresh voices were united by love. His Act Three singing was heartfelt and we were all so happy that they decided to remain together until Spring. On so many occasions in this performance, Rodolfo, Mimi and the orchestra playing so rhapsodically were one as Puccini would have wanted. Rodolfo's reaction and final cries clutching the moribund body of his beloved Mimi, were heartbreaking. There is nothing that can compare with his great loss. Hyunho Cho was a superb Rodolfo – bravo to him. His cries of "che vuol dire Quel guardarmi cosi" followed by sobbing "Mimi, Mimi" were devastating. Please pass the Kleenex.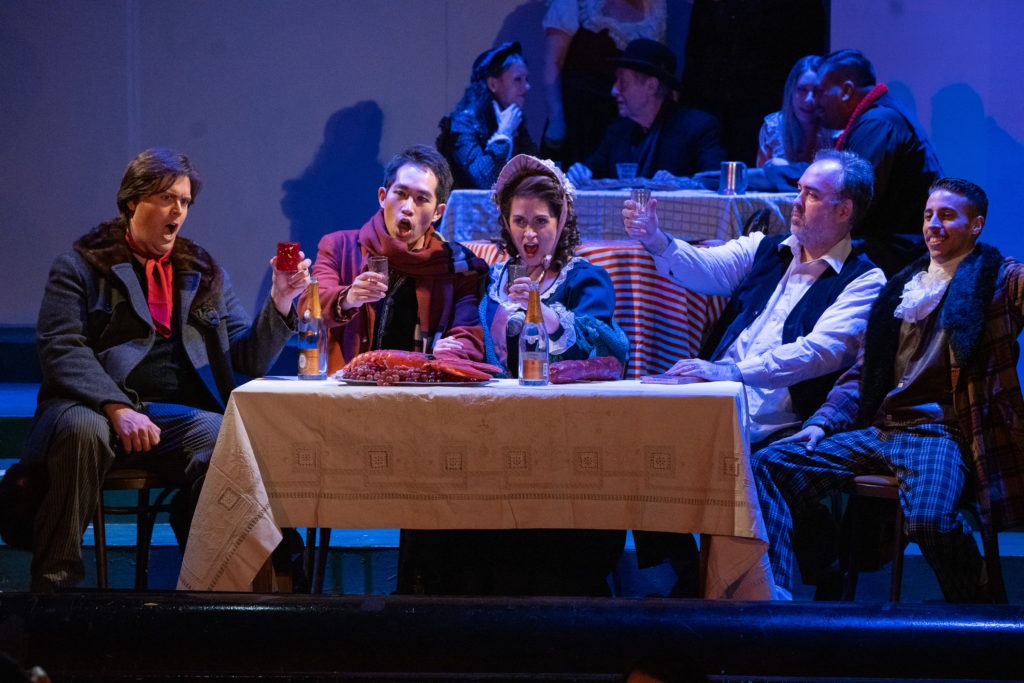 Musetta, a grisette, (French – a working class woman) was in the persona of Carami Hilaire, whom I remembered as a very fine Aida with the Regina Opera. Musetta is a carefree, amusing character who is Marcello's girlfriend. Their romance is sizzling hot, and on and off between jealous arguing. However her basic goodness shines through when Mimi is dying and she acknowledges being a flawed gem while Mimi is an angel. The Christmas eve Café Momus scene is where Musetta makes a grand entrance and sings the iconic "Quando m'en vo," which decades ago was a hit record by Della Reese. Musetta has left Marcello and enters the cafe with a rich sugar daddy, Alcindoro. After Mimi feigning a foot ache from her new shoes, Alcindoro leaves to get them repaired while Marcello and Musetta are passionately reunited. Ms. Hilaire sang "Quando m'en vo" beautifully, and her exceptional top voice dominated the ensemble and was as captivating as Musetta's big heart and generous nature. A very strong splash of brilliance on this portrait of bohemian life and love.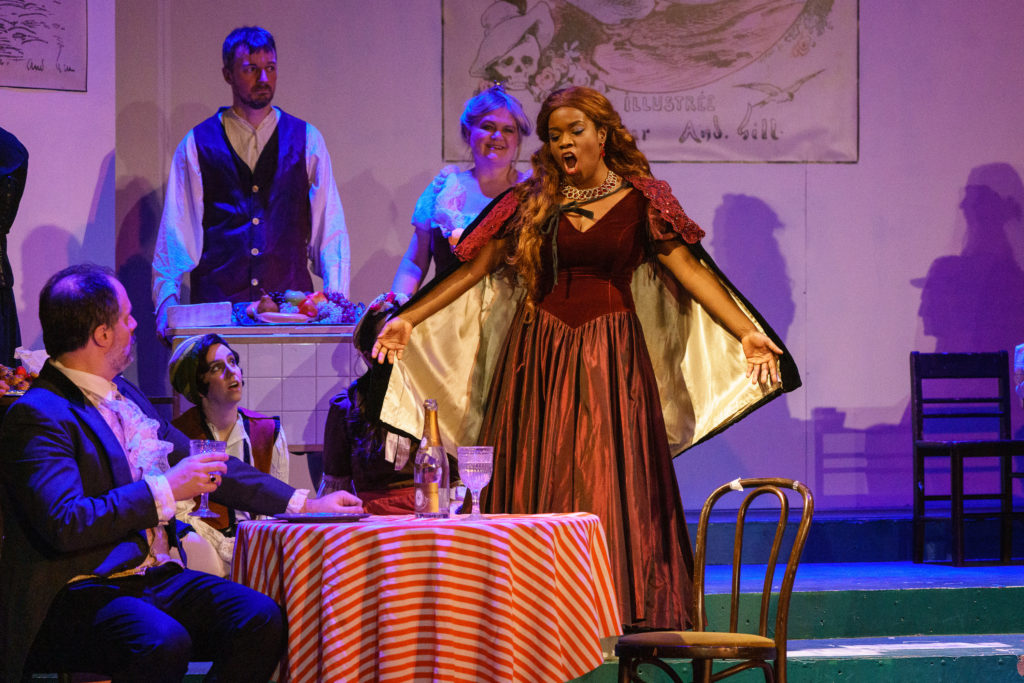 Marcello, a painter was a good friend to Rodolfo and Mimi. Scott Lefurgy was an excellent Marcello with a strong manly baritone. Rodolfo's singing of "O Mimi tu piu non torni" with the remorseful Marcello, when Mimi has moved out and Musetta's flirtations have upset him beyond mere patience, was touching. Their voices blended beautifully in this much loved duet and the ending so softly because they really can't live without the love their girlfriends/ soulmates offered.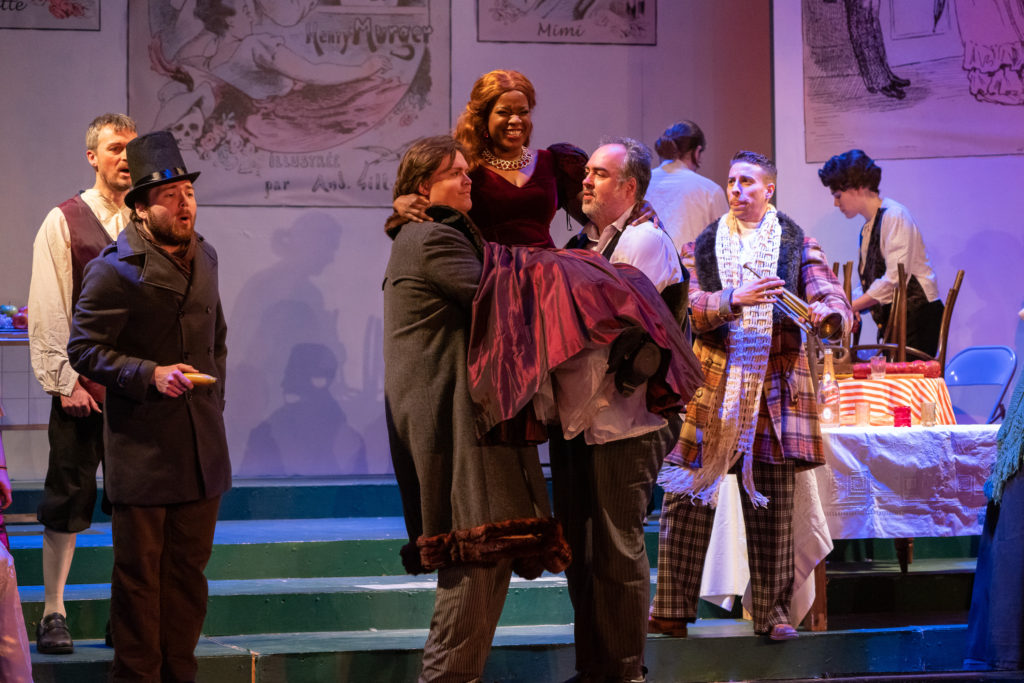 The Bohemians were all wonderful. Schaunard, a musician, was sung by José Cuartas, a Colombian American baritone from Queens. His rich sounding voice and comedic acting made for a memorable and impressive portrait of his character. His sister Marissa and her friend were in the audience giving loving support.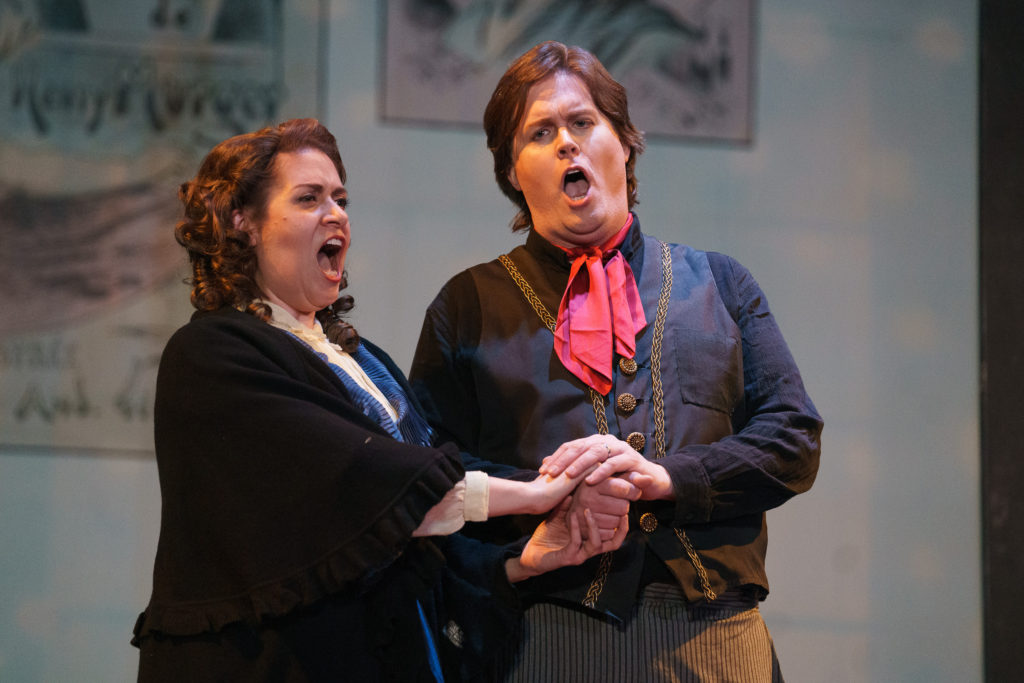 Colline, a philosopher was sung by Luis Alvarado and yes it was Mr. Alvarado who sang the coat song – not Caruso. Mr. Alvarado sang this brief but touching aria beautifully, his rich full voice slowly milking the mournful "Death theme" of Mimi at its core.

Benoit the landlord, was David Tillistrand, whose mournful countenance was truly amusing and whose basso buffo was titillating. His was an adroit caricature of a buffoon outsmarted by the scrappy Bohemian tenants.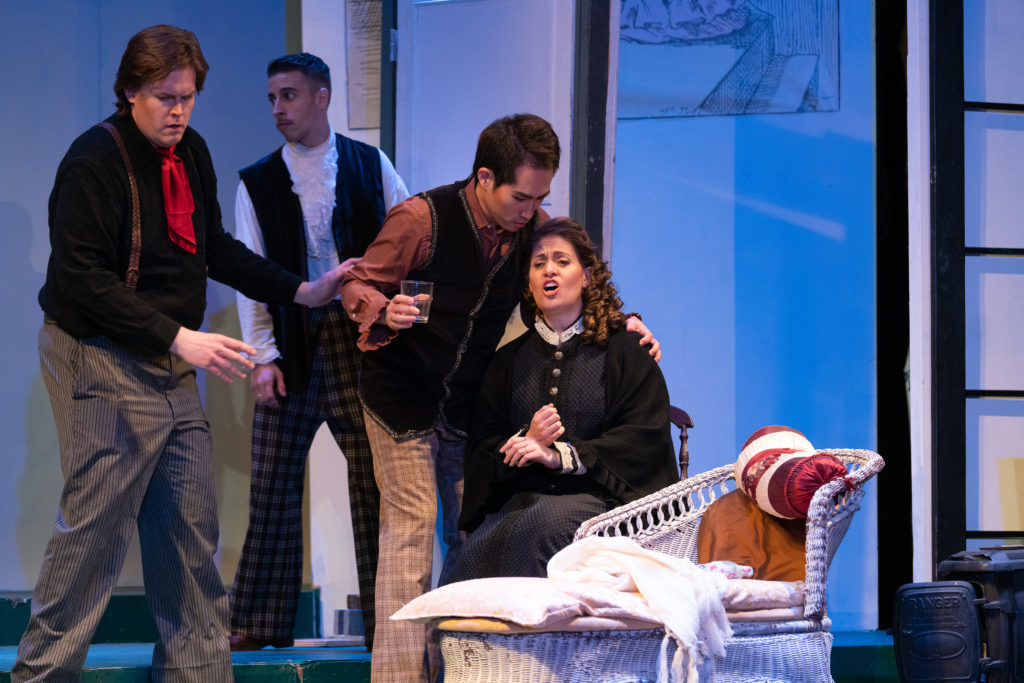 Alcindoro, a sugar daddy, could have been one in "Gentlemen Prefer Blondes." David Tillistrand once again struck gold as Alcindoro, and how nice to see his face when given the bill for all at the Café Momus.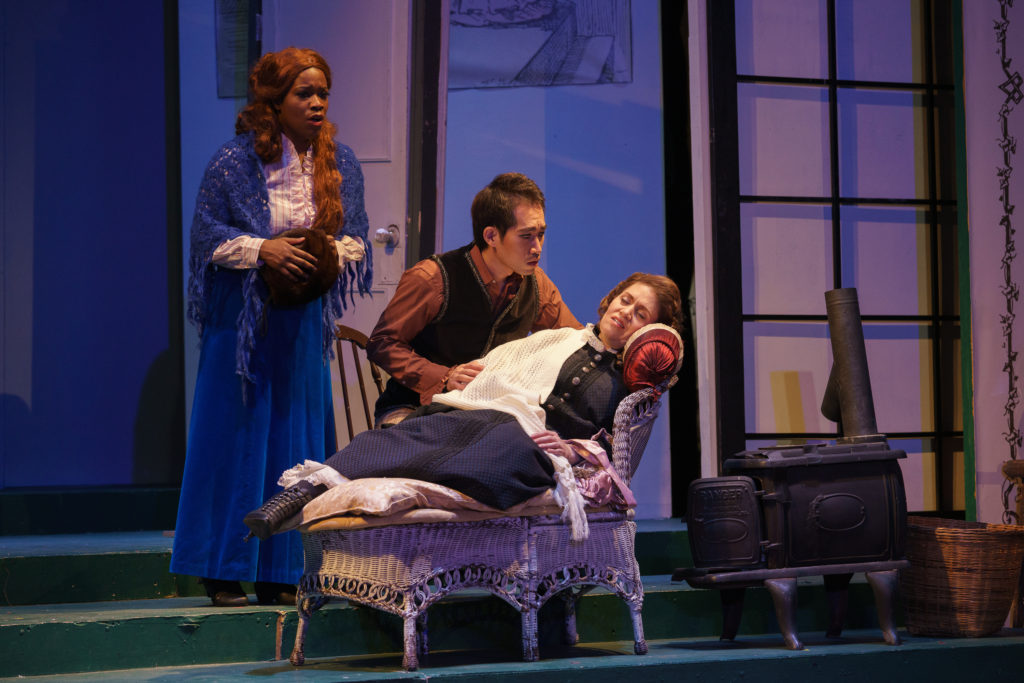 As Parpignol, Lindell Carter used his clear, fine tenor voice to add color to the toy vendor. His music is just a tad sad, and the parade that follows is so glad.

Reliable Thomas Geib was solid and majestic as the Sergeant.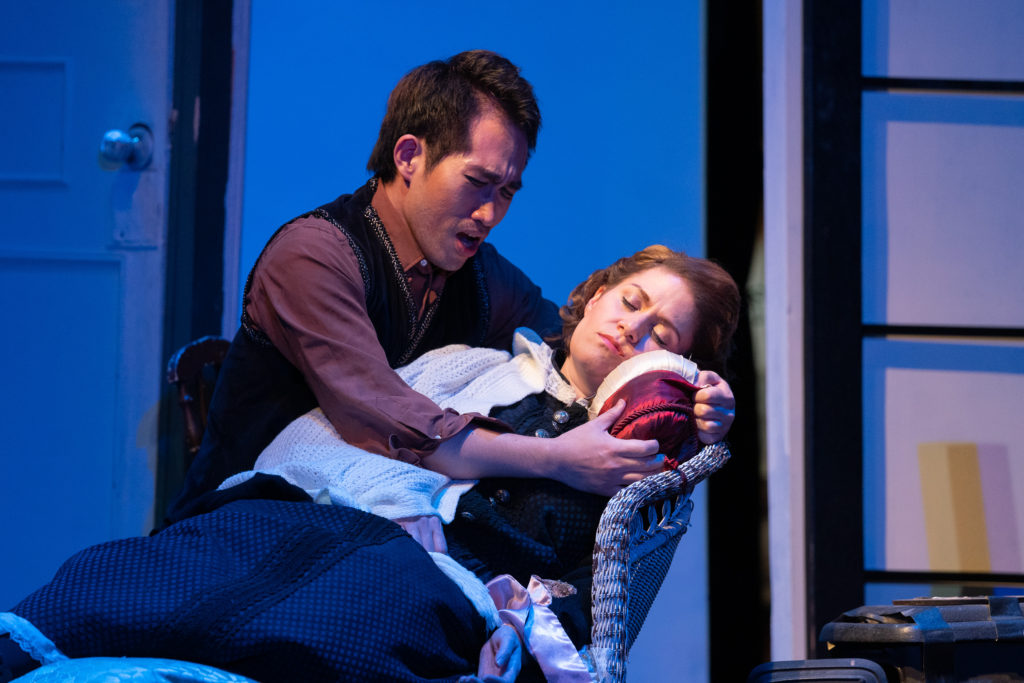 It was nice to see and hear Francine Garber's super soprano briefly in Act Three.

The superb Regina chorus sang sweetly at the Café Momus, and the ensemble was also used both well and colorful. The familiar angelic faces of Arina Ayzen, Nomi Barkan (Boy) Shelly Barkan, Raphaëlle Blin (Delivery boy, waiter,) Alexandra Cummings, Catherine Greco, Kerianna Krebushevski, Elena Jannicelli-Sandella, Martin Peacock (Delivery man, headwaiter, soldier) Ksenia Stepanova, Jonathan Turner, Aliyah Meredith Weinstein and Lindsey Wells.

The set design by Linda Lehr and Wayne Olsen was eye catching and mood setting, yet simple and accomplished. The Bohemian signs and portraits were symbolic and lovely.

The costumes by Marcia C. Kresge were perfection. Each "Bohemian" stood out colorfully not garishly. Mimi's simple wardrobe and Rodolfo's colorful attire and those of his fellow Bohemians were symbolic and welcome. Musetta stood out in blazing color and flamboyance. Saori Morris's make up was subtle and shaded properly.

Linda Lehr's stage direction was perfection. Everyone was in their proper place for audience viewing. There was direction and flow – sheer genius.The Café Momus was so joyful. Alcindoro getting the bill after all his frustrations was genuinely funny. Some directors choose to omit that piece of operatic action but to many, it's the whipped cream on an ice cream sundae. It was nice to chat with Ms. Lehr and sing her praises with her friends Frank and Patrizia at La Casa Vieja restaurant afterwards.

Maestro Gregory Ortega Music director conducted an illuminating performance with the 35 splendid musicians, and Puccini's brilliant touching music was revealed to its very core. Maestro's finales were all exhilarating and the finale showed us love lost forever and the tears flowed for Mimi and all.

So nice to see members of the Barkan family on violin and oboe and onstage. Marlene Ventimiglia was the ever gracious volunteer and Joe Delfausse is always reliable and helpful. Linda Cantoni's translations of the titles made the opera more enjoyable.

Bravo Regina Opera. Thank you to Francine Garber – Cohen, Producer; and to Linda Lehr for the spectacular staging.

My group of friends and family, some with grandchildren went to Casa Vieja, a Mexican restaurant, where we lifted a glass to two of Regina Opera friends who have passed away. Gabe Carbone age 91 and Bill Safka age 79, who were two beloved Bohemians and opera lovers. They were with us in spirit. They, like Judy and myself and countless opera lovers, love the Regina Opera. Their bravos echo in happy memory. Lourdes Peña and staff are like the Café Momus to us. Like the sun every morning, Sunset Park rises with Casa Vieja and the Regina Opera – both are part of its ascendancy. The Regina Opera will end its 49th season with Verdi's masterpiece Il Trovatorein May. We look forward to being at the Regina Opera – Brooklyn's premiere opera house for that opera.