On Wednesday, November 7th, Opera Index presented their Annual Membership Buffet & Recital at The Community Church of New York in Murray Hill. It was a mild breezy evening and everyone came in with a smile because these events provided great food and peerless singing. The auditorium was soon filled up and aided by Joseph Gasperec, Executive Director and Jane Shaulis Metropolitan Opera mezzo and President of Opera Index. She began the program with pride in the accomplishments of Opera Index and its mentoring so many successful young singers over the years.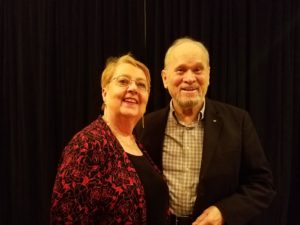 The recital opened with "Dich teure halle" from Wagner's Tannhäuser by soprano Helena Brown. The darkness in the sound of her voice goes right up to brilliant highs and is quite thrilling. The triumphant quality of her voice greatly enhanced the thrill of the endless pouring of Wagnerian gold offered in this amazing piece. Ms. Brown is in good hands and is ready for the big time.
The second awardee was baritone Xiaomeng Zhang who sang "Vy mne pisali" from Tchaikovsky'sEugene Onegin. Zhang sang with elegant lyricism and with Russian melancholy. He sang it in Russian with outbursts from Onegin's somewhat ambiguous nature. Zhang caught the mood and spirit of the piece and sang it with exuberant spirit. Dmitri Hvorotovsky, of blessed name, who was a great Onegin, would smile in opera heaven, knowing that such dedication and love is making an Onegin for future generations.
"Vous qui faites l'endormie" from Faust by Gounod was sung by bass William Guanbo Su. His laugh was quite the thing and Satan relished the mischief's he was doing. The thing one must remember is that despite the devil's spirited laughter, he is pure evil. Mr. Su was able to enchant and captivate his audience with his rich voice and made us willing participates in his devilish schemes. Well done, bravo! See Tonight we sing a 1953 film (About the life of Impressario Sol Hurok) starring the great Ezio Pinza as Russian bass Fyodor Chaliapin for whole episodes of Faust with Roberta Peters, tenor Jan Peerce and Pinza as Mephistopheles.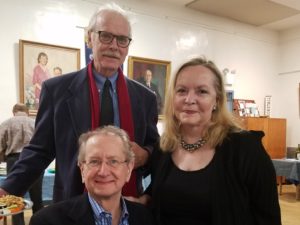 "Est gibt ein Reich" from Ariadne auf Naxos" by Richard Strauss was exuberantly sung by soprano Felicia Moore, who has a lovely, shimmering frolicsome top voice, caressing legato, climbing scales, expanding trills and a radiant upper extension so vital to the music of Strauss.This Strauss was a tantalizing bit of future glory! I thought of the great soprano Eileen Farrell, who married a cop, sang jazz and settled in Staten Island. What a glorious voice. Thanks for evoking the thought, Felicia Moore.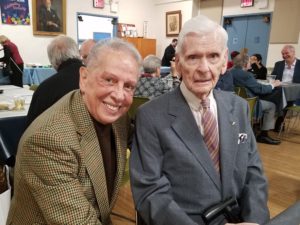 Last but not least, was the rising Polish baritone Hubert Zapiór, who sang the spirited "Largo al factotum" from Rossini's Il Barbiere di Siviglia. I have heard this aria many times and I vividly recall my mentor and beloved voice teacher Bertha Lang playing the recording sung by the immortal American baritone Lawrence Tibbett and teaching it to me phonetically. I sang it at age 13 on The Ted Mack Amateur Hour and for the great bandleader (Rhapsody in Blue) Paul Whiteman on his coast to coast television show in 1949. I loved singing it and ironically Lawrence Tibbett (1896-1960) who also was a film star, sang the role only once in his lifetime. I got to see Tibbett when he replaced Ezio Pinza in Fanny on Broadway in 1956. I have seen Mr. Zapiór before and was impressed with the nobility of his voice but never saw him in such an exuberant piece. I loved his contrasting "Col Cavaliere" with "Colla Donnetta" and his mock soprano fun singing. His precision was seemingly at ease and the precision was perfect. By the time this tour de force was over, the audience was wild with enthusiasm. I had tears in my eyes to hear it so beautifully rendered. I became the 13 year old boy baritone hearing Tibbett's recording for the first time. Bravo Figaro-bravo Zapiór.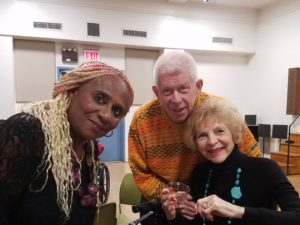 Michael Fennelly was the brilliant and enthusiastic accompanist for this group of singers. He is as good as it gets, and being a Californian, he brings pianistic sunshine to all.
Jane Shaulis announced some surprise encores. Helena Brown sang a riveting "Since My Man's Gone" from Gershwin's Porgy and Bess and used both upper and lower reaches of her voice to get us all emotionally entwined in her profound grief. Once again, like in Elisir d'amore I shed "Tre Furtivi lagrimi" at least three tears. Powerful stuff!  
I heard the great bass Ezio Pinza sing "Some Enchanted Evening" from South Pacific at Lewisohn Stadium and again at Madison Square Garden in 1951. William Guanbo Su sang it beautifully, without the pianissimo ending. It is such a wonderful song and the richness of Su's basso at such a young age was very satisfying and romantic.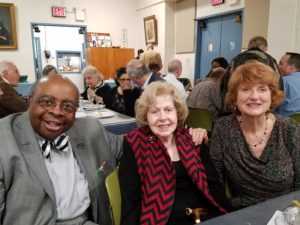 Now that our ears were filled with the sound of beautiful music, it was time for a delicious dinner provided by the members.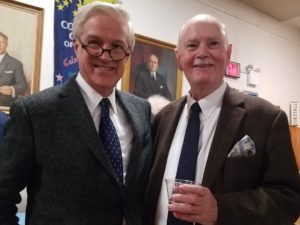 Judy and I lived in Murray Hill in 1965-6. It was with renewed joy that we returned for such a splendid evening thanks to the folks at Opera Index.
It was nice to share some time with legendary Met mezzo Rosalind Elias, soprano Jane Marsh, artists managers Ken Benson, Robert Lombardo, and Michael Rosen; George Voorhis, Mark Moorman, Jesse Walker, Robert Steiner, Faith Pleasanton, Janet Stovin, Ellen Godfrey, Cavaliere Eddie Jackson, resplendent in a black velvet cape, the elegant Cesare Santeramo and Dr. Robert Campbell, looking well in his wonderful red leather coat, Linda Howes and Maestros Stephen Phebus and Eve Queler, Ursula Brown, Doris Keeley, William Goodhue, Jane Le Master, the brilliant opera lecturer Lou Barrella, composers Philip Hagemann and Penny Leka Knapp (Fruitcake) antiquarian horologist John David Metcalfe and famed MetOpera standee Brooklynite Lois Kirschenbaum, now immortalized in a recent film documentary.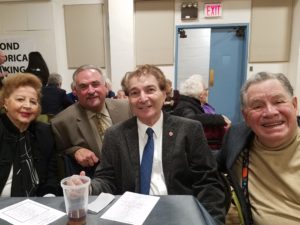 Three special guests of Phil Hagemann and Murray Rosenthal were Marion Schumann, Mary Pierce and Marion's sister Margaret, all from the Pegasus Opera Company in Brixton, London, England. They presented two of Phil's performances that were well received and the women enjoyed the festivities at our Membership recital and dinner. Each and every one a star and all friendly – not distant stars.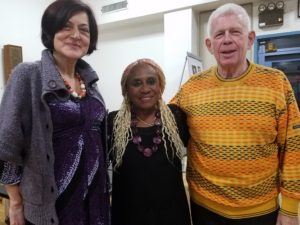 Thank you Jane Shaulis for being our congenial host, you truly are "the hostest with the mostest!"