The Kosciuszko Foundation in New York on Thursday, November 8th was the scene of Classic Lyric Arts Fall Benefit Gala. Glenn Morton, President, and Artistic Director, graciously welcomed the audience to a wonderful evening of young opera artists. "Classic Lyric Arts (CLA) is a nonprofit organization that supports the training of young artists in the field of opera, offering immersive programs each summer in France and Italy." Glenn Morton spoke of the tremendous importance of these programs and how they influence the young singers as a catalyst for creation.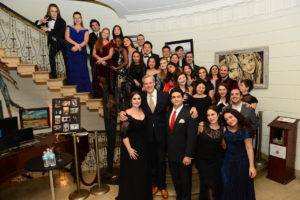 There are in the program quotes that best describe going to France and Italy to prepare for a career in singing. Each year, Classic Lyric Arts offers about a dozen students a 3-week intensive training program focused exclusively on French opera and song. "The French sing more through their words than through their music. The singer becomes a painter, describing a landscape, suggesting an emotion, one must use the entire palette of colors of the voice." Michel Sénéchal Co-Founder of Classic Lyric Arts France (1927-2018)
CLA Italy trains 25 singers in the "bel canto" traditions and techniques of singing in Italian. Ubaldo Fabbri, principal coach of CLA Italy, noted that "The great singers who become true legends are, not by coincidence, those who have impeccable diction, one that is intrinsically connected to their vocal technique."
Gaspare Pacchierotti, castrato, (1740-1821) said: "Our language is so melodic that when it is pronounced precisely, its practically sung."
The program began with "Pace, pace, mio dolce tesoro" from Mozart's (1756-1791) Le Nozze di Figaro. The singers holding each other, some in whisper, some in trepidation, some in confusion, stolen kisses, misplaced vows, unfounded jealousies and ultimately expressions of true love and forgiveness.
The young singers were an ensemble in upheaval, disorientation and happy tears of harmony. Chantal Brundage, Sarah Bacani, Aleea Powell, Melanie Dubil, Leah Israel, Travis Benoit, Fernando Cisneros, Ari Bell, Yongjae Lee, with Mina Kim as the excellent accompanist. They were never Stepford wives in their perfection of voice and movement, but happy, gleeful youth, performing Mozart with truth and ardor.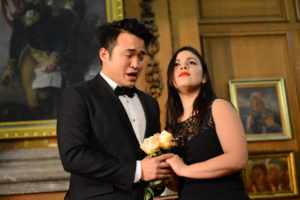 Next was the Cherry duet from Pietro Mascagni's (1863-1945) L'amico Fritz. According to the program notes, "Fritz, is a wealthy landlord, determined to being a bachelor who meets Suzel the daughter of one of his tenants. As they are harvesting, she and Fritz begin to fall in love, while enjoying the abundance of Springtime." Stephanie Guasch as Suzel and Taicheng Li as Fritz with Lochlan Brown as the pianist. Pietro Mascagni's gentle, lyrical opera is quite a contrast to the mega-hit Cavalleria Rusticana, but it is equally resourceful in its sweetness and beauty. Guasch and Li are following a special line of lyrical singers. Recommended listening tenors, Ferruccio Tagliavini, Beniamino Gigli, Tito Schipa, Luciano Pavarotti and their female partners left us with enchanted recordings that will live forever. Ms. Guasch has a lovely soprano, never forced and able to negotiate the upper reaches with elegant yearning and awakening. Taicheng Li sports a fine tenor that showed the hearts awakening and yearning. Later on, the duet ends with almost stratospheric pianissimi at loves blooming. It ended before that happened. Nonetheless, it was a joy to hear it once more. I remember seeing "Fritz" at the wonderful Amato Opera on the Bowery and recall two chirping man-made birds singing along. It is such a gorgeous duet.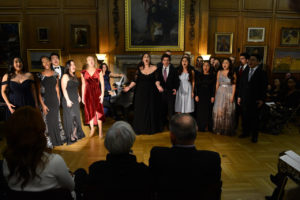 "Soave sia il vento" from Cosi fan tutte by W.A. Mozart was sweetly sung by Sarah Bacani, Rosario Hernandez and Ari Bell with Marianna Vartikyan as the pianist. Mozart's group of duets, trios, and ensembles always enter the heart and mind with eagerness and they were a joyful blend. Don Alfonso Rosario Hernandez, laughs at the two-faced escapades of women, deliciously and devilishly sung by Sarah Bacani and Ari Bell.
"Venti scudi" by Gaetano Donizetti's (1797-1848) in Elisir d'amore has Nemorino (Ganson Salmon) desperate for money to buy the famous elixir of love that will assure the affection of Adina, the girl he longs for, agrees to join the army for Venti Scudi (Twenty pennies). His braggart bellicose rival Sergeant Belcore makes him an offer "he dare not refuse." Ganson Salmon has a lyric tenor voice that carries well and has additional resonance in the upper reaches. This duet offers tenorial opportunities to really shine and Mr. Salmon by virtue of a good technique did just that. Xiaomeng Zhang took advantage of his foolish rival in some strong baritonal outbursts which added to the fun. Nemorino is always endearing and seemingly naive and Belcore is always self-assured and cynical. The blending and clashing of these two rivals for Adina is in its own way heartwarming. Required listening-Venti Scudi by Enrico Caruso and Giuseppe De Luca in 1919. Caruso's voice darkened in his later years and he "lightened" it for Nemorino. Sadly, on December 11th, 1920 Enrico Caruso suffered a throat hemorrhage at the Brooklyn Academy of Music in Elisir d'amore and the curtain came down after Act One. The greatest of tenors sang three times more at the Metropolitan Opera, his final performance being in La Juive December 24, 1920. He died in Naples, age 48, on August 2, 1921. The whole world mourned.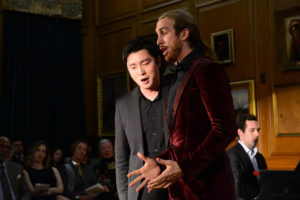 The program ended part one with two alumni reminiscing, tenor Ganson Salmon-Italy 2017 and Xiaomeng Zhang who gave it two thumbs up. The proof lay in the Italianate interplay in Venti scudi. In order to be more Italian in his interpretations, the great and sacred Bronx born American baritone Leonard Warren studied with Italian Baritone  Giuseppe De Luca.(in NYC) Warren died on stage at the Met in La Forza del Destino in 1960. He is a legend and an immortal. The critics noticed the tremendous difference in his singing from the Italianate studies with De Luca.
Part two of the program opened with the iconic "Au fond du temple saint" from The Pearl Fishers by Georges Bizet (1838-1875). Recently it was sung by Andrea Bocelli and baritone Bryn Terfel on PBS. Zurga and Nadir two pearl fishers in love with the same woman. Both are torn by their desire for Leila the Princess of Brahma. Even with Enrico Caruso, Giuseppe De Luca, and Frieda Hempel, the original 1916 production won critical praise and the"opening night" gala was a major social event-it was gone by the next season and did not return till a few years ago. Tenor Beniamino Gigli's recording with Giuseppe De Luca of this duet is a classic. Enrico Caruso's 1904 recording of Nadir's aria "Mi par d'udir ancora"(Caruso made another "Darker" recording of this aria in 1916) was played in Woody Allen's film Match Point other great interpreters were Beniamino Gigli, and Corsican tenor Tino Rossi. Each one gives the listener a learning experience. Zachary Goldman has a sweet lyric tenor that eases its way into darker territory with some strong outbursts. Sunyeop Hwang has a pleasing baritone that rang out in the dramatic portions and caressed in the strength of their friendship.
Next the religious lust combo of the "Te deum" from Giacomo Puccini's masterpiece (1858-1924)Tosca. (1900) Still current with the "casting couch" but one must remember the ruthless, evil Scarpia is a man of sophistication and charm. I saw baritone Tito Gobbi in 1965 as Scarpia with the legendary Renata Tebaldi, his voice and performance haunt me still. Running a feather on Tebaldi's back at the Palazzo Farnese and his entrance in the Church was frightening. His moderate sounding voice became huge when he made his entrance, he made you jump out of your seat in the theatre. Charles Laughton's unexpected entrance in the Barretts of Whimple Street had everyone jump with fear. Those are things that must be learned like in cooking, a dollop of ricotta is not a large tablespoon, so too with singing.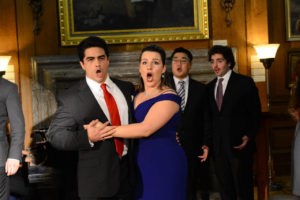 Baritone Fernando Cisneros is the handsome seducer and when I saw him climb the stairs to get onstage, he was already Scarpia. Scarpia could not focus on the "Te deum" since he had a dual purpose to his overt religious spirit. It was heat for Tosca, the sign of the cross was a blessing to his steed loins to find a new rider, Tosca, and to rid her of her lover, his soon to be prisoner Mario Cavaradossi. Tosca was the lamb to be on the plate for Baron Scarpia, Chief of Police at the Palazzo Farnese. Travis Benoit and the chorus sang fervently and Mina Kim was the spirited conductor and pianist. The choristers who passed by earlier sang in earnest. The proximity of singers and audience made us all part of the experience.
The Septet from the Tales of Hoffmann by Jacques Offenbach (1819-1880) is described thusly, "Hoffmann has agreed to forfeit his shadow, his reflection, his essence, for his lover, the courtesan of Venice, Giuletta. She, in turn, abandons him for another." The Septet, Blair Cagney, Daniela Magura, Zachary Goldman, Ganson Salmon, Sunyeop Hwang and Ari Bell with Cherie Roe as the dynamic accompanist. I suggest the Tales of Hoffmann's 1951 film by Michael Powell and Emeric Pressburger whose hit about ballet in" The Red Shoes"  is now an iconic classic. This film version of Hoffmann is magical, grotesque and passionate and deserves its cult immortality. Filmmakers George Romero and Martin Scorsese were profoundly affected by this film. Each would rent it at the same record store and knew the other had it. City Opera tenor Robert Rounseville stars as Hoffmann and many notables of ballet and opera provide other voices – highly recommended. Sir Thomas Beecham is the conductor. Ballet star Robert Helpmann is Hoffmann's "sworn enemy." Ballet dancer Moira Shearer is Olympia, Ann Ayars is Giuletta and Leonide Massine gives a haunting balletic sequence as well. A must see!
Gran pezzo concertato from Il Viaggo a Reims by  Gioachino Rossini (1792-1868) "On their way to Reims for the coronation of Charles X of France, a group of European aristocrats, officers and a poetess (Lochlan Brown – conductor, Mina Kim Pianist) prepare to attend the royal festivities." The entire company was outstanding. Victoria Policht and her lovely soprano were especially noteworthy. The cast shined and brought the light of art and music to all of us. They were Rachel Querreveld, Stephanie Guasch, Melanie Dubil, Emily Hanseul Park, Shan Hai, Yue Huang, Travis Benoit, Taicheng Li, Nathan Seldin, Fernando Cisneros, and Ari Bell. Each one a brilliant jewel on this musical necklace.
The finale, honoring the centenary of the late Leonard Bernstein (1918-1990 ) conductor and composer. "Make our Garden Grow" from Candide. Pangloss the world's greatest philosopher declares that "We live in the best of all possible worlds." The singers here were Rachel Querreveld, Bela Albett, Rosario Hernandez, Travis Benoit, Nathan Seldin, Ari Bell, chorus and Jonathan Heaney, conductor and pianist.   
The great Leonard Bernstein is buried in Brooklyn's Greenwood Cemetery not far from our home in Carroll Garden's South Brooklyn. The people on the street applauded his funeral hearse in Brooklyn since he composed West Side Story, Candide and On the town. Louis Moreau Gottchalk, a favorite of Bernstein, is also at Greenwood and the Pantano family! l will be in great company!
We were happy to attend the reception and to see so many singers and friends from the world of opera. The Gerda Lissner Foundation with Stephen De Maio as President received special thanks for supporting tonight's gala. Cornelia Beigel, Gerda Lissner Secretary, was in attendance as well as contributors Alfred and Christine Palladino, Maestro Eve Queler, composer Philip Hagemann, Vocal Programs Joy Ferro, International Concerts Diana Corto and writer Meche Kroop were some of the friends and opera lovers present.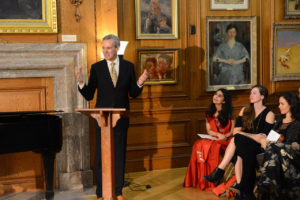 Glenn Morton, Artistic Director spoke to the singers at the concerts' end and one felt the devotion that he inspired in the young singers. Through him, they enter the journey of the beauty of opera and the tranquil and exciting world it promotes in hearts and souls of their audiences.
We thank Glenn Morton President and Artistic Director, John Hunter, Vice President and Board Chairman, Alan Frankel, Secretary, Charles Perrier Treasurer, and Kathryn Stone. This evening will long live in cherished memory. Some "before the holidays" fun and a very gratifying look towards the future with such an abundance of young fresh talent!