Review by Nino Pantano
One critic wrote "you could tell the quality of a forthcoming performance by the amount of food spilled by excited fans in the local cafeteria." This was written at the Metropolitan Opera debut of legendary soprano Magda Olivero age 65 in 1975.
Such was the excitement of the crowd at Zankel Hall in Carnegie Hall in New York City (but without spilled food) on Sunday, April 30th when the Gerda Lissner Foundation, in association with the Liederkranz Foundation, presented concert winners of the International Vocal Competition for 2017.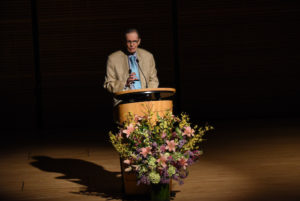 Stephen De Maio, President of the Gerda Lissner Foundation started the afternoon by proudly thanking his board members as well as the singers for their prodigious efforts and hard work and the Liederkranz Foundation for its joyful collaboration.
Famed radio (WQXR) and Channel 13 effervescent personality Midge Woolsey, was the host and spoke eloquently of her love for opera and the human voice. Her current development work is for the concert series at St. Thomas Church at 5th Avenue in New York City and her activities with the Martina Arroyo Foundation. In her spare time, Midge loves to travel with her husband, economist Dr. Jerry Stolt and is thankful for the love they have been blessed to share.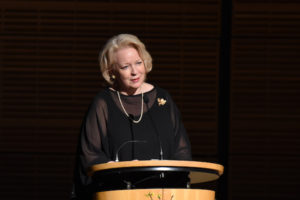 Metropolitan mezzo, the radiant Susan Graham 
was honored and 
regaled the audience with some of her adventures here in NYC with a cab driver right out of a 1930's movie à la Lionel Standler with a quizzical attitude and Brooklyn-type charm. She also told the young awardees to stand back until the time is ready. Ms. Graham's recent "fairy tale" marriage to a long time suitor Clay Brakeley
made happy headlines in the wedding section of the New York Times. 
The concert began with mezzo soprano Megan Mikailovna Samarin (Second Prize-Gerda Lissner) singing "Deh! tu, bell' anima" from Bellini's I Capuleti e i Montecchi, generously showing the audience a clear, precise well controlled mezzo soprano singing a lush rhapsodic Bellinian line with dream like cadence. It was a bel canto journey of star struck lovers and two warring families, by Sicily's great composer, the immortal Vincenzo Bellini. (1801-1835)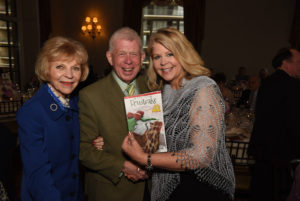 Next was a spirited rendition of "Vous, qui faites l'endormie" from Gounod's Faust sung by Joseph Barron (Second Prize-Gerda Lissner) who gave us Gounod's devil, well served and savory. Barron's captivating laughter had just the right balance between wickedness and cynicism. Google this aria from the 1953 film

Tonight

We Sing, where the legendary basso Ezio Pinza sings it. It will make one happy that this great tradition continues with Joseph Barron! We need more "dark" voices.
The concert continued with a "bright" voiced Maria Brea's (Second Prize-Gerda Lissner) sparkling singing of "Chi il bel sogno di Doretta" from Puccini's La Rondine. Ms. Brea revealed a lovely, lyrical, soaring soprano who under the surface, is scratching the romantic and vulnerable heart that is behind the facade, the far away dream that represents the notion of true love. Ms. Brea captured this like a rose within a white glove and gave it to one and all!
Corrie Stallings (First Prize-Gerda Lissner) captivated us with "Que fais-tu, blanche tourterelle" from Gounod's Roméo et Juliet. It was sung with sophistication and elan. It was utterly Gallic in a beguiling way, evoking actress Veronica Lake in a film noir. Ms. Stallings's dazzling coloratura cadenza ascent trill and descent took one's breath away – visually and vocally stunning.
Angela Vallone (First Prize-Gerda Lissner) who continues to gather many laurels with her performances, never fails to enchant. Her sublime singing of "Azaël! Azaël! Pourquoi m'as tu quittee?" from L'enfant Prodigue by Debussy placed her "out of the commonplace and into the rare" (Stranger in Paradise Kismet) with a mood inducing, emotion ladeling, soul searching performance. Ms. Vallone's special soprano gifts have earned her very high marks and a growing group of admirers. I see her in Puccini roles down the golden paved highway! Angela's proud parents, Anthony and Maria and her handsome fiancee were truly overjoyed.
Australian tenor Alisdair Kent (First Prize-Gerda Lissner) once again proved that tapping "down under" there is vocal gold. He gave us a dazzling and magical performance of "Je Croix Entendre Encore" from Bizet's early work Le pecheurs de pêrles. Mr. Kent has a voice of incredible sweetness, subtly seductive with sublime pianissimi and conjured images of a brilliant bubble floating towards the heavens creating moments of total immersion in the delicate and beautiful.
The excellent piano accompaniment of Jonathan Kelly (Courtesy of the Metropolitan Opera) ensured perfection and strong support.
After a brief intermission, part two of the program began with "Weiche, Wotan weiche" from Das Rheingold by Wagner sung by mezzo soprano Suzanne Hendrix. (Second Prize-Liederkranz Foundation) Ms. Hendrix is the possessor of a dark rich powerhouse mezzo with cavernous sound. One thought of Helen Traubel or the equally cherished Ernestine Schumann-Heink (1861-1936) whose Met farewell at age 71 was as Erda in Das Rheingold-then off to Hollywood for her screen debut in Here's to Romance with dashing Met Opera tenor Nino Martini in 1935.
Polish soprano Alexandra Nowakowski (First Prize-Gerda Lissner) sang "Où va la jeune Hindoue" (The Bell Song) from Delibes's Lakmé. This aria was sung in the past by coloratura soprano Lily Pons (1898-1976) whose piquant voice and chic elegance catapulted her to Hollywood fame. Before her appendectomy, Pons exposed her navel in Lakmé and also won raves. Ms. Nowakowski has a large coloratura sound à la Joan Sutherland but is capable of some wonderful shading and fine spun pianissimi. Her formidable trill was golden age in its execution. Polish diva Marcella Sembrich was the possessor of a phenomenal trill. The Semrich Museum in Bolton Landing on Lake George is open in summer and is a gem! Mme. Sembrich (1858-1935) would have been very proud of Alexandra Nowakowski. Mme. Sembrich was the Gilda in Caruso's Met debut in Rigoletto November 1903.
Emily D'Angelo mezzo soprano (First Prize-Gerda Lissner) sang a sly, coy and saucy rendition of "Contro un cor che accende amore from Il barbiere di Seviglia by Rossini. Her marvelous subtle acting evoked the gamin presence of Judy Garland and Liza Minnelli. She conquered the machine gun staccato and coloratura passages of this whirlpool piece and sealed it with an adroit combo of stylistic grace, virtuoso caprice and warm amber intonation. It was a Rossinian revolution and revelation! 
Lawson Anderson bass baritone made an indelible mark in Wagner's "Abendlich strahlt der Sonne Auge" from Das Rheingold. Anderson is an Atlanta, Georgia native. He had a striking Teutonic-God like appearance and his richly textured bass had a rare combination of nobility and power perhaps unheard since the legendary Friedrich Schorr. No wonder he was given first prize by the esteemed Liederkranz Foundation.
Andre Courville, (the top prize Liederkranz Foundation winner), regaled the audience by strolling down the aisle singing "Air du Tambour-Major" from Le Caid by Ambroise Thomas. Courville then climbed on stage with athletic grace and serenaded my wife Judy (in the first row) in a brief unforgettable moment before resuming his triumphant march onstage. His flourishes, dazzling coloratura and posturing, vocal power appeal made him a true disciple of the genre. It was an energizing treat and a vocal firework show! Mr. Courville who hails from Louisiana will help restore the tradition started with legendary Met basso Pol Plancon. His top prize Gerda Lissner award was proudly presented by Barbara Ann Testa, trustee.
Lastly, Vanessa Vasquez (top prize Gerda Lissner Foundation) was presented with the award by Susan Graham. The familiar "Un bel Di" from Puccini's Madama Butterfly was her offering. She sang this aria as a personal testament, bringing the audience along the journey. She followed the musical line perfectly as if you were reading her personal thoughts. Her whispers flew through the house like pellets of doubt but were cast aside by triumphant and hopeful ideas. Ms. Vasquez sang on the word as the great past Butterfly, Licia Albanese would have strongly recommended. By the time she hurled out her final notes, we were already part of Butterfly's journey. Ms. Vasquez transformed herself from a Colombian beauty to that petite Japanese girl. She was so in character that it took a while for she and the audience to regain composure. A stunning performance! A grand ovation!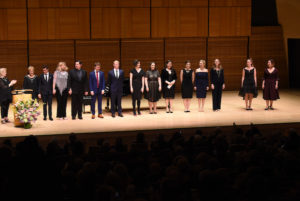 The pianist for the second half of the program was the indomitable and gifted Arlene Shrut. Her husband Gary Kendall is her number one fan and his robust  basso laughter gives Mephistopheles some competition! 
A this point, the audience strolled two blocks to celebrate these future stars of opera at a sumptuous dinner at the New York Athletic Club on Central Park South. There were several hundred guests at this event and what a joy to "meet and greet before we eat" at this formidable happening. We spotted photographer Don Pollard and reviewer Meche Kroop. Cavaliere and Perugia's poet Edwardo Jackson, Mario Lanza Society's Bill Ronayne, opera lecturer Lou Barrella and wife Cathleen, the ever youthful Brooklyn born soubrette soprano Elaine Malbin, soprano-lecturer Jane Marsh, Gloria Gari from the Giulio Gari Foundation, Met Opera legend dramatic soprano Elinor Ross, Kennedy Center honoree and pioneer Martina Arroyo whose foundation paves the way with "Prelude to Performance" at the Kaye Playhouse at Hunter College, "Mr. Opera" broadcaster vocal coach Ira Siff and Hans Pieter Herman whose recent cabaret show entitled "The Flying Dutchman" was delightful and a big hit at the Pangea Club in New York City. We missed Ira Siff's great character, Madame Vera Galupe-Borszkh from La Gran Scena Opera who surely would have been among the opera legends of the evening. 
It was great to see the gallant Glenn Morton, Artistic Director from Classic Lyric Arts, Brian Hunter, President of the Musicians Club of New York and of course the industrious and ever busy Stephen De Maio, President of the Gerda Lissner Foundation with the ebullient Michael Fornabaio, Vice President and Treasurer, the effervescent Cornelia (Conny) Beigel, Secretary and Trustee, Karl Michaelis ever dapper and the affable Barbara Ann Testa, Trustee. Ever chic Joyce Greenberg, who as competition assistant was the herald calling so many young singers before being judged and Sonja Larsen, also competition assistant. Diva and ageless Met legend mezzo Rosalind Elias and unforgettable ever vibrant Met soprano and now coach Diana Soviero. Famed Met mezzo and Opera Index President Jane Shaulis with husband Executive Director Joseph Gasperec, Vice Presidents Janet Stovin and composer Philip Hagemann, Treasurer Murray Rosenthal and Christine and Alfred Palladino from the Columbus Citizens Foundation added their special vitality to the mix!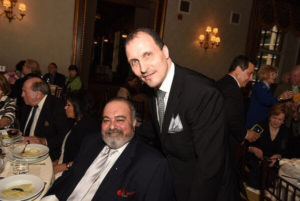 It was nice to see Philipp Haberbauer, General Manager from the Liederkranz Foundation, vocal coach Robert Lombardo, impressaria Diane Curci from Bensonhurst, beacon and pioneer Maestro Eve Queler from the Opera Orchestra of New York and Maestro Jan Wnek, vocal coach Arturo Colaneri, proud Brooklynite, opera manager Ken Benson, vocal coach Tami Laurance with rising young tenor José Heredia, evocative soprano Patricia Kadvan, from the New York Grand Opera, tenor/actor Anthony Laciura, opera autograph's Bill Safka, Betty Cooper Wallerstein glowing patron and community activist, sparkling Don di Grazia, head of the Met Opera's Patrons Box Office and charming wife Chi hosting her sister Lily Rudel.  
We thank Stephen De Maio and the Gerda Lissner Foundation for their noble quest to find and nurture operatic voices and Joseph Pfeifer of the Liederkranz Foundation and the Max Kade Foundation, Dr. Lya Friedrich-Pfeifer, President.
The superb dinner was by Openskies Hospitality Catering Service. Judy, myself and our guests will carry happy memories of this almost surreal exposure to a world of harmony, love and beauty for years to come! Gerda Lissner's dream continues to come true as young talented future opera stars take off like dazzling fireworks to grace the future operatic heavens and ensure us of many more glorious sunrises!