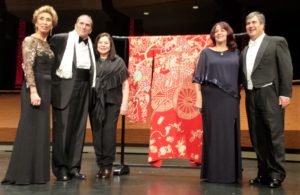 On the afternoon of Sunday, October 23rd, The Licia Albanese-Puccini Foundation celebrated its 42nd anniversary with a concert at Rose Hall in the Time Warner Building and presented its awardees.This annual event is looked forward to with great anticipation by opera lovers and has grown into a "must be there" event. The legendary soprano Licia Albanese (1909-2014) gave it life and led the "Star Spangled Banner" until her 104th year. 
Sachi Liebergesell, President and Brian O'Connor Esq., Vice President of the foundation, made the opening remarks. Ms. Liebergesell was honored for her eight years at the helm and given one of Mme. Albanese's Madame Butterfly costumes as a special surprise gift.The stage had the kimono on display as well as portraits of the late patrons Helen LaSala and famed restaurateurs Francesco and Mary (Anzalone) Giambelli who was born in Brooklyn. A poster showing film star Marta Eggerth was also on display. Stephen De Maio, Administrative and Artistic Director was truly "monarch of all he surveyed."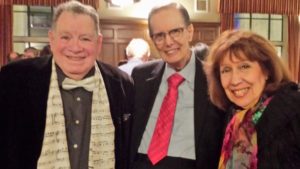 Past winners who have achieved success at the Metropolitan Opera (Met) and world stages were presented with distinguished achievement awards. First was to acclaimed tenor Bryan Hymel, who spoke of Licia Albanese's impact on his career, soprano Ailyn Perez who sang a haunting "Lumille Ancella" from Adriana Lecouvreur, soprano Nadine Sierra who captivated us with an ethereal and enchanting "O Mio Babbino Caro" from Puccini's Gianni Schicchi and Mariana Zvetkova who thrilled us with "Keim liche Aufforderung" by Richard Strauss.The lifetime achievement award was presented to soprano Lauren Flanigan whose roles with the New York City Opera (NYCO) and the Met were riveting. Ms. Flanigan enthralled us with a bloodcurdling "La luce langue" from Verdi's Macbeth!
Met tenor Ricardo Tamura who flew in from Germany for this occasion with his 
charming 
wife Dagmar, told the audience how Licia Albanese heard him sing when he was ready for a career as a scientist. She encouraged him to go all out for a singing career instead. Despite a cold, he had to attend this special event to honor Licia Albanese. Tamura then sang a brilliant "E lucevan le stelle" from Puccini's 

Tosca

 with sublime fortissimos and breathtaking 

diminuendos

 and received an ovation.
Our special host for the gala was the erudite Brian Kellow, who wrote a beautiful obituary for soprano Patrice Munsel in the November issue of Opera News. Ms. Munsel preceded Brian as the lively host for the Albanese-Puccini galas.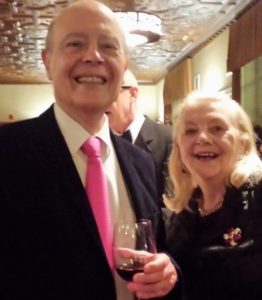 With the pianistic wizardry of Arlene Shrut and Jonathan Kelly accompanying the singers, the program began.
Kidon Choi used his mellifluous baritone in "O, Mariya, Mariya" from Tchaikovsky's Mazeppa. His vibrant, resonant baritone captured the Russian melancholy to the core, from beautiful top to burnished bottom.
Maria Natale's soaring and lovely soprano and Alexander McKissick's sturdy tenor transformed us to that garret in Paris in "O soave fanciulla" from Puccini's La Boheme with soprano sparkle and tenorial triumph. Their final high notes took us "into the rare" on a stairway to paradise. Ah! young love!
Mozart's Don Giovanni was next with the duet "La ci darem la mano" sung by Mia Pafumi and Pawel Konik. Ms. Pafumi's caressing soprano and Mr. Konik's beguiling basso made for a saucy and savory blend. 
"Eri tu" from Verdi's Un ballo in maschera was sung with smooth legato and strong pathos by baritone Norman Garrett. His finale was ardent and touching and in the Verdi baritone manner.
"Je crois entendre encore" from Bizet's The Pearl Fishers was splendidly sung by Fanyong Du whose dulcet penetrating tenor evoked the style of Nicolai Gedda. Enrico Caruso's haunting version of this aria was used on the sound track for Woody Allen's film Match Point.
More exotic fare followed with the popular duet "Sous le dome epais" from Delibe's Lakme. Soprano Amber Daniel and mezzo Samantha Hankey blended as one, their voices rising and falling and fading from the ear as if produced by a golden harp.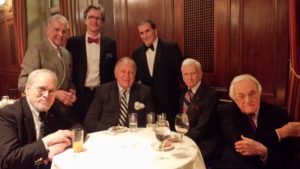 Jared Bybee sing an old favorite, "Vision Fugitive" from Herodiade by Massenet. Mr. Bybee has a rich expansive baritone, perfect for this aria, which I recall sung by Igor Gorin from the Voice of Firestone many years ago. Mr. Bybee sang beautifully making me relive some lovely memories!
Tracy Cantin used her clear, powerful and sumptuous soprano in "Che il bel sogno di Doretta" from Puccini's Le Rondine. This role suits her voice like a velvet glove! Cantin and Puccini are a perfect fit!
Australian tenor Alasdair Kent captivated us with "Fantaisie aux divins mensonges" from Lakme. His technique is as natural as that of a songbird, rhapsodic and superb with a sudden pianissimo ascent to a high C at the finale. It made me think of the great tenor John McCormack. 
Andre Courville sang "Air du tambour major" from 
Le Cid
 by Thomas.This popular aria whose recordings by Pol Plancon and Ezio Pinza merit re-listening was brilliantly sung. Mr. Courville captured the bravado, swagger and braggadocio
 of the foot stomping piece, coupled with scales, ascents and descents. Courville made the 

adrenaline

 flow!
First prizewinner Karen Barraza sang "Tu che di gel sei cinta" from Puccini's Turandot. The death of Liu was the last music Puccini wrote before he himself passed away. Ms. Barraza's soaring soprano was even and powerful, yet tapered and delicate. She achieved the essence of the poignant pleas of the slave girl who dies for her master.
The top awardee, Vanessa Vasquez concluded the concert with "Un bel di" from Puccini's Madama Butterfly. Ms. Vasquez used her lyric soprano with balance and inner focusing as if we were reading her thoughts. Ms. Vasquez  generous and ample soprano enveloped the audience. 
All these young and gifted singers sang from the heart and made every word matter, following the sage advice from the great Licia Albanese. We are all the recipients of her legacy!
Several hundred of the audience walked over to the New York Athletic Club a block away to attend the glittering star studded dinner and celebration. We sat at the table of Stephen De Maio, who also serves as President of the generous Gerda Lissner Foundation. While "table hopping" we were happy to greet Cornelia "Conny" Beigel, Secretary of the Gerda Lissner Foundation, Joseph and Maria Gimma, son and daughter-in-law of Licia Albanese and Father John Kamas from St. Jean Baptiste Church who gave the benediction.
A "quartet" of legendary opera legends such as Diana Soviero, Elinor Ross, Martina Arroyo and Rosalind Elias, along with Maestro Eve Queler and patron Karl Michaelis, Michael Fornabaio, treasurer of the Puccini-Albanese Foundation and 
patron presenter Joyce Greenberg with the dapper Ralph Petrarca enjoyed the festivities
. Other organizations included were Opera Index's President Jane Shaulis (Met mezzo) Vice President Janet Stovin, (Brooklynite), Treasurer Murray Rosenthal, 
Executive Director Joseph Gasperec, 
Gloria Gari from the Giulio Gari Foundation, 
Glenn Morton, 
Artistic Director 
from Classic Lyric Arts, Eva De La O, 
Executive Director 
from Musica De Camara all lent their vibrant presence, as did 
ever effervescent 
writers 
Scott Barnes and Meche Kroop, while poet/Italian teacher Cavaliere Edward Jackson lent us his joie de vivre!
It was a pleasure to greet Alfred and Christine Palladino who are benefactors and patrons. Christine shares the joys with my wife Judy of having gone to Lincoln High School in Brooklyn. Among the guests were Angelo Vivolo, President of the Columbus Citizens Foundation, 
Gregorij von Leitis and Michael Lahr from Elysium "Between Two Continents" both literary and humanitarian endeavors, 
patrons Cesare Santeramo and Dr. Robert Campbell, jeweler Mark Bunda, from the Sachi Liebergesell family, presenter Betty Cooper Wallerstein, Marjan Kiepura and vivacious wife Jane, son of esteemed Met tenor and film star Jan Kiepura and the unforgettable soubrette soprano Marta Eggerth who to many were Danilo and Hanna for their countless appearances world wide in The Merry Widow. Marta Eggerth (1912-2013) sang at the Albanese Gala until she was well into her 90's and lived to the age of 101. Marjan Kiepura is also a virtuoso pianist and Chopin expert thus continuing the family tradition.   
We all feasted on rack of lamb, fine wines and desserts and shared in the joys that Sachi Liebergesell and the Licia Albanese-Puccini Foundation gave us, especially the musical feast which is food to the soul and a soothing balm these mundane days.The fresh young talented voices of the future give us hope. American poet Emily Dickinson wrote "
Hope is the thing with feathers" or
Hope is the songbird in our heart that keeps on singing! 
A toast to 
President Sachi Liebergesell and congratulations to the 
2016 international vocal competition winners.