On the warm, breezy night of Thursday, November 3rd, Glenn Morton, Artistic Director of Classic Lyric Arts greeted the enthusiastic audience who gathered in the elegant townhouse that is the Kosciuszko Foundation located at 15 East 65th Street in New York City. The scholarships involve the art of French and Italian singing and studies in both countries.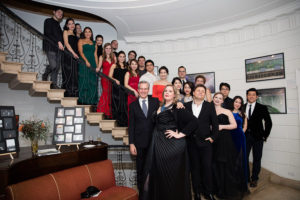 Mr. Morton spoke eloquently of the need for music and those magical moments frozen in time of hearing and viewing great singers as "a movable feast" like Hemingway or like Wordsworth's "I wandered lonely as a cloud"(Daffodils), that live forever in heart and memory. This is the fifth year of these soirees and the selections offered us a bouquet of cherished and unforgettable moments.
The first was "Alla bella Despinetta" from Mozart's Cosi fan tutte sung in perfect ensemble by soprano Angela Joy Lamb as Fiordiligi, mezzo Maria Miller as Dorabella, soprano Michelle Geffner as Despina, John Haney, tenor as Ferrando, Xiaoxiao Cheng, baritone as Guglielmo and baritone, Andrew Jurden as Don Alfonso accompanied by Brianna Han on the piano.The men appear in disguise, each in an attempt to seduce the others fiancee. The witty libretto by Lorenzo Da Ponte was brought to the fore by the youthful, comedic flair and vocal expertise of the singers. It was a perfect blend.
Soubrette mezzo Zoey Preston regaled us with "A quel diner je viens de faire" from Offenbach's Le Perichole. Sung with a saucy and tipsy mein, Ms. Preston's sweet and flexible mezzo caressed the ear and her humor the funny bone! Michael Stewart was the able accompanist.
Labbra di foco, from Verdi's late masterpiece Falstaff followed. Soprano Hee So Son was Nannetta and tenor Joey Haney as her lover Fenton. Ms. Son's vibrant lyric flights were a perfect blend for Joey Haney's sweet and ardent tenor and their few stolen moments together were rhapsodic. Michael Sheetz was their fleet fingered accompanist.
Vera Kremers sang "La paix du cloitre" from Gismonda by Fevrier in a cavernous mezzo at once gripping and sensuous. One heard a Wagnerian soprano in the mix of her voluptuous and generous outpourings. Gismonda, widow, has entered a convent but without conventional (pun) wisdom-still has desire. Michael Stewart, the pianist brought out the conflict of her sacred-profane quandary.
"Un di se ben rammentomi" (Rigoletto Quartet) by Verdi was given a stellar performance by tenor Fanyong Du as the Duke singing with ringing tones, pleasing quality and fearless elan, soprano Elizabeth Perez was a flawless Gilda with a Galli-Curci high note at the finale but tapered beautifully, robust baritone Xiaoxiao Cheng a strong Rigoletto and mezzo, Maria Miller, a sultry alluring Maddalena. Michael Sheetz agility on the piano was like hearing a full orchestra!
Massenet's Manon "N'est-ce plus ma main" followed featuring as guest performer, famed French tenor Stephane Senechal, who is co-artistic director of L' Art du Chant Francais and seductive soprano Mikaela Bennett. Chevalier Des Grieux is now a priest and Manon wants to lure him back from a man of the cloth to one under the sheets. The ensuing duet is loaded with passionate outbursts and emotion and Des Grieux cannot resist loving Manon once again. Monsieur Senechal has a tenor voice of steel and grit coupled with beauty and grace and Ms. Bennett matched him with her soaring and beguiling soprano. This was a duet of searing intensity sung by two performers in their prime, resulting in moments to remember forever. Michael Stewart's powerhouse accompaniment was vital!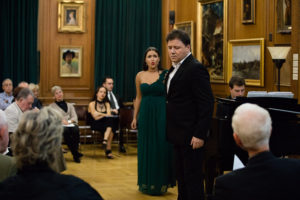 In the MGM film Maytime 1935 (Jeanette MacDonald & Nelson Eddy) Miss MacDonald is heard singing "Les filles de Cadix" by Delibes for Emperor Louis Napoleon. It was with great pleasure to relive that moment hearing it sung by Vivian Yau. Michael Stewart accompanied her to the sprightly bolero rhythm. Ms. Yao's vibrant soprano with its lyrical insouciance and coloratura agility was a fine showcase for this rare gem!
Glenn Morton, who is planning a full concert to celebrate the centennial of composer Paolo Tosti, introduced special guest Donata D'Annunzio Lombardi related to Gabriele D'Annunzio, the great Italian poet. She sang a touching Tosti song "Vorrei morire". ("I would want to die in springtime when the air is warm and the sky serene, when the earth is covered with flowers, the swallows build their nests and with the dying day").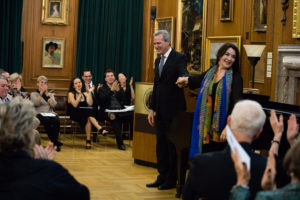 Ms. Lombardi sang the song with fervor, wistfulness, sublime pianissimo and beautiful melancholy. Giuseppe De Stefano and Luciano Pavarotti recorded this song and the immortal tenor Enrico Caruso recorded many Tosti songs among them "A Vuchella" in 1919. Glenn Morton accompanied her with tenderness and veneration. Ms. D'Annunzio Lombardi is a master class teacher at CLA La Lingua della Lirica.
"Te souvient-il du lumineaux voyage" from Massenet's Thais was sung by Angela Joy Lamb, soprano and baritone Fernando Cisneros. As the dying Thais, Ms. Lamb sang with the fierceness of a lioness with power and pathos. Mr. Cisneros as Athanael, evoked memories of the great Italian and Spanish baritones of the past with his dark vibrant penetrating sound and Gino Bechi comes to mind. Thais decides to die as a nun but Athanael the monk reveals his too long repressed passion for her. The Garden of Paradise is too often "a lust garden."
The final offering was "Bevo al tuo fresco sorriso" from Puccini's bittersweet operetta La Rondine. It featured sparkling soprano Yeon Jung Lee as Magda, Elizabeth Perez, saucy soprano as Lisette, Sungwook Kim tenor, a robust Ruggero and lyric tenor John Haney as a sentimental Prunier. All sang in flawless ensemble brilliantly accompanied by Laetitia Ruccolo, pianist and conducted by Michael Sheetz and all were participants of Classic Lyric Arts in Italy 2016.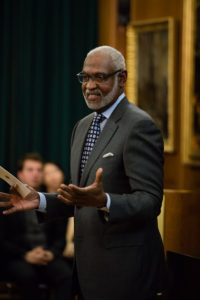 Board member John Hunter was there with his wife Dolores and gave a talk "from a parents perspective" on the joys of parenting a child with musical talent and the importance of mentoring and exposure to ensure success.
The reception enabled us to "meet and greet" friends and the young artists who gave us a night to remember. To quote William Wordsworth, "and then my heart with pleasure fills and dances with the daffodils!"
Thank you Glenn Morton and Classic Lyric Arts and bravo to all!