The Gerda Lissner & Liederkranz Foundations honored Deborah Voight and introduced the 2016 Winners of the International Vocal Competition on the afternoon of Sunday, May 1st. The vocal competition was held at Carnegie's intimate Zankel Hall on Seventh Avenue.
Stephen De Maio, President of the Gerda Lissner Foundation was happy to announce this joint effort of both the Gerda Lissner Foundation and the Liederkranz Foundation and to honor Metropolitan Opera (Met) soprano Deborah Voight. Mr. De Maio then presented our host, Brian Kellow who is well known from Opera News and as an author of many bestselling books.
Mr. Kellow had us all join in applause for the herculean challenges of Stephen De Maio and his efforts on behalf of young gifted singers. Kellow then spoke admiringly of the talent and grit of honored guest soprano Deborah Voight whose own book entitled Call me Debbie: True Confessions of a Down to Earth Diva is getting rave reviews. Ms. Voight, who also hosts the Metropolitan Opera broadcasts, spoke of the importance of defiance and never losing sight of your goal. Deborah Voight is an American original-like Niagara Falls-she is a natural wonder!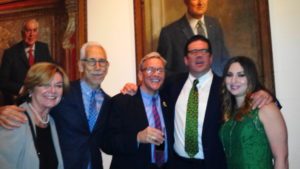 Pawel Konik sang "Aleko's cavatina" from Rachmaninoff's Aleko. With his regal sounding bass baritone and beguiling presence, Konik sang with a sense of melancholy, foreboding longing and seamless breath control, power and presence, an unbeatable combination.
"Una voce poco fa" from Rossini's Barber of Seville was given fresh insights by Samantha Hankey whose dark creamy mezzo caressed the ear. Ms. Hankey's flawless diction, flashy cadenzas, coloratura embellishments exemplified the Rossinian style.
Fanyong Du revealed a brilliant sparkling tenor in "A te, O cara" from Bellini's I Puritani nailing the high D. His Bellinian melodic line was filled with fervor and poignancy.
"Air des bijouix" from Faust was sung by soprano Alexa Jarvis who gave us a rewarding and tasty brew of Gounod's masterpiece with perfect pitch, excellent trills and colorization. Her coloratura was impeccable.
It was nice to hear "Vision Fugitive" from Massenet's Herodiade, by baritone Kidon Choi whose passionate lyrically precise outpourings captured this haunting aria.
Kang Wang tenor sang an exuberant and vibrant "Dei meie bollenti spiriti" from Verdi's La Traviata.  A sparkling tenor, intense yet ardent, beautiful quality and effortless high notes.
Puccini was well served with "Si, mi chiamano Mimi" as sung by soprano D'Ana Lombard whose phrasing and charm blended with Puccini's piquant themes from La Boheme. Lombard brought us all to that humble garret in Paris where love first bloomed.
The Wagner portion was well represented by the powerful radiant soprano skills of Amber Daniel. Her "Dich, teure Halle" from Tannhauser flooded Zankel Hall with golden brilliance of tone coupled with solid breath control and offered sparkling sunshine for all that rainy afternoon.
Tenor Kevin Ray showered us with Wagnerian gold in his fervent manly singing of Wintersturme from Wagner's Die Walkure. Kevin Ray's interpretation with such vocal brilliance evoked the greats of the past.
Mezzo-soprano Aleksandra Romano sang "Nacqui all' affanno…Non piu mesta" from Rossini's La Cenerentola." She performed this powerhouse aria with grit, coloratura agility and the afterglow of a good warm Amaretto!
The haunting "Depuis le jour" from Charpentier's Louise was sung by soprano Antonina Chehovska. Ms. Chehovska sang with power and lyricism, lovely floating tone, her pianissimos were gossamer wings on the dragonfly express.
Andrew Stenson sang an energizing "Firenze e come un albero fiorito" from Puccini's Gianni Schicchi. His vivacious and victorious lyric tenor and artful dodger gestures enthralled everyone.
"Care Compagne" from Bellini's La Sonnambula was sung by soprano Hyesang Park whose excellent trills, romantic flights and perfect ascents captured the Bellinian line and whetted our appetites for more.
Galeano Salas sang Puccini's "Che gelida manina" from La Boheme. His full lyric tenor combining ardor, sweetness, power and abandon brought great pleasure. A brilliant high C at the climax evoked the past greats reborn. Salas won top prize at the Gerda Lissner Foundation and Deborah Voight gave him his award.
The sublime piano accompanists were Jonathan Kelly and Arlene Shrut.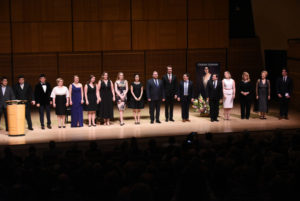 Lastly baritone Sean Michael Plumb whose brilliant singing of "Bella siccome un angelo" from Donizetti's Don Pasquale receive an ovation. Plumb's voice with its incredible agility, beautiful high notes, impeccable cadenzas and sparkling color brought golden age pleasure to one and all. The top prize was awarded to Plumb by Mrs. Lya Friedrich-Pfeifer Secretary and Trustee of the Liederkranz Foundation who also presented second prize to tenor Kevin Ray and soprano Amber Daniel.
The reception and dinner at the nearby New York Athletic Club was a true celebration of the inspiring concert we all witnessed. Stephen De Maio, President of the Gerda Lissner Foundation, Michael Fornabaio, Vice President and Trustee, Cornelia Beigel, Secretary and Trustee, and Trustees Karl Michaelis, Barbara Ann Testa and Joyce Greenberg are to be thanked for their monumental efforts on behalf of the young promising singers.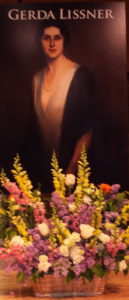 Countless people from the opera world were in attendance. At a glance one saw Sachi Liebergesell, President of the Licia Albanese-Puccini Foundation, sopranos and opera judges Martina Arroyo, Elinor Ross,  Elaine Malbin, Teresa Apolei, mezzo Nedda Cassei, Maestro Eve Queler, Gloria Gari, Philipp Haberbauer, General Manager of The Liederkranz Foundation, Opera News Editor in Chief F. Paul Driscoll, writers Scott Barnes and Meche Kroop and Brooklyn's Bill Ronayne from the Mario Lanza Society to name a few.
At Zankel Hall, a large beautiful portrait of Gerda Lissner was kept on stage surrounded by flowers. I like to think that the flowers represent the singers Mrs. Lissner helped through her generosity and largess of spirit. Through the stewardship of Stephen De Maio and the Gerda Lissner Foundation and the Liederkranz Foundation, they will bloom and grow, like the Edelweiss from The Sound of Music. Bravo to all!