On Sunday, January 17th, Opera Index held its Distinguished Achievement Awards Dinner at the JW Marriott Essex House in New York City. The great mezzo soprano, Dolora Zajick was the honored guest. An operatic recital of the 2015 Opera Index Award Winners was also presented. Jane Shaulis, who is a mezzo soprano with the Metropolitan Opera and the new President of Opera Index, enthusiastically hosted this lively production. In her introductory remarks, Ms. Shaulis announced the donations by Opera Index towards the scholarships for the young promising singers and the great pride she has as a performer in helping these talented awardees attain their goals. After hors d'oeuvres and libations the crowd of several hundred went into the glittering dining room for dinner and the operatic recital.
The gifted pianist Michael Fennelly accompanied the singers with dexterity and precision.
Susannah Biller sang "Ah! Je veux vivre" from Gounod's Romeo and Juliette. Ms. Biller possesses a sparkling coloratura soprano and sang an eager, ardent and fearless performance with dazzling agility and fully captured Juliette's adolescent liberation. Ms. Biller's high note near the finale was projected into space like Cupid's arrow. She held the final note as if embracing her Romeo.
Samantha Hankey regaled us with "Allez, laissez-moi seul" from Cendrillon by Massenet. Ms. Hankey is the caretaker of a warm and luscious mezzo and captured the French style. Her sound caresses and comforts and her vocal palette offers flowing tones and many colors.
Jonas Hacker offered "Una furtive lagrima" from Donizetti's "L'elisir d'amore." Mr. Hacker is the landlord of a fine tenor voice and is now harvesting and displaying his years of planting. Hacker's voice has a strong even quality, is manly and straightforward, with a good diminuendo and an excellent cadenza at the finale.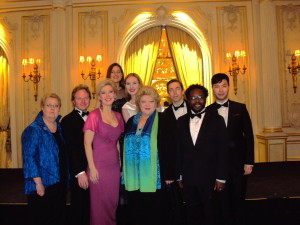 Megan Marino, mezzo soprano and Will Liverman, baritone sang "Dunque io son" from Rossini's Il barbiere di Siviglia with wit and elan. Ms. Marino, a feisty, clever Rosina flew through the cadenzas and scales with abandon. Mr. Liverman showed Figaro's quicksilver mind with vocal fireworks. Both of their flights into the vocal stratosphere were thrilling! It was truly a fun ride and the audience had a good time!
Siman Chung sang "Di tanti palpiti" from Rossini's Tancredi. His countertenor was never false, in full bloom and he sang this melodic air with excellent diminuendos, strong fioratura and uncommon elegance.
Lastly, Will Liverman sang Gryaznoy's aria from the Tsar's Bride by Rimsky-Korsakov in Russian as if he was Russian born. Liverman used this showpiece with its high notes, robust lows and dramatic utterance to showcase his extraordinary voice and splendid vocal gifts. He is from Chicago and is the premier Lissner Charitable Fund award winner which was presented by Karl Michaelis.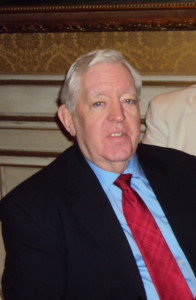 The award ceremony followed with each singer receiving their well-deserved awards. Matthew Epstein Artistic director, Artist manager and consultant whose 40 year career has been vital to the opera world, was the presenter to Dolora Zajick. Mr. Epstein spoke eloquently of her powerhouse performances, humanity and humor and as a legend in her own time.
Ms. Zajick graciously accepted the gift and in a humorous and joyful talk enraptured us all. She told the audience of some memorable performances especially one where the tenor's wig caught fire in Il Trovatore and another from Rusalka where an artificial cat failed to comply and was thrown in her witches brew! Ms. Zajick has been wowing them at the Metropolitan Opera and all over the world since 1988. Brooklyn can never forget her glorious Santuzza at the Regina Opera circa 1980. Ms. Zajick is happy to have her own organization, The Institute for Young Dramatic Voices in Orem, Utah to help aspiring singers. Dolora Zajick said "I can still deliver the goods" and she sure can – brava!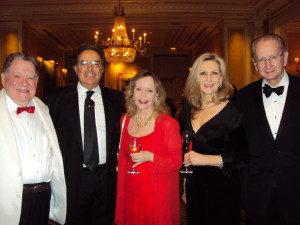 We sat at the table of Stephen De Maio, President of the Gerda Lissner Foundation with Eve Queler conductor, Robert Lombardo vocal agent, Will Liverman baritone, Gloria Gari (Giulio Gari Foundation) presenter Joyce Greenberg, patron presenter, Karl Michaelis and Michael Fornabaio. It was a pleasure to meet and greet PBS' Midge Woolsey and husband economist Jerry Stolt, Italian Vice Consul and Commendatore Stefano Acunto and wife Carole, President Sachi Liebergesell from the Licia Albanese-Puccini Foundation, jewelry appraiser Mark Bunda, General Counsel Brian O'Connor Esq. and wife Maura, who reminisced about their recent trip to Sicily, Duane Printz from Teatro Grattacielo, Bill Ronayne from the Mario Lanza Foundation located in Brooklyn. Also present were famed legendary sopranos Elinor Ross, Lucine Amara, Elaine Malbin (Brooklyn's own) and mezzo soprano Rosalyn Elias. What a joy to greet Dagmar Tamura, wife of the rising Met Opera tenor Ricardo Tamura who was rehearsing for his forthcoming Turiddu in Cavalleria Rusticana at the Metropolitan Opera.
What fun to chat with Opera Index Treasurer Murray Rosenthal and Vice Presidents Philip Hagemann and Janet Stovin and family, Board member John David Metcalfe, sponsor Doris Keeley, poet and patron Cavaliere Edward Jackson, composer Stephen Phebus and wife Linda Howes, Ken Benson radio host, vocal agent and erudite Brooklynite. Presenters were the ever dapper tenor Cesare Santeramo and Dr. Robert Campbell and Met comprimario tenor Anthony Laciura and wife Joelle, all of whom were a vital part of the festivities.
When I was a youngster in Bensonhurst, Brooklyn and an aspiring opera singer (The boy Caruso of Brooklyn), with no one to guide my career, I would be in a room listening to Toscanini and the NBC Orchestra on the radio, my head pressed to the speakers, while everyone else was listening to rock and roll. Now, decades later, I found my "comfort zone" in supporting this great art form and encouraging others to do so by giving a "push" in the right direction for gifted young potentially great singers of the future. Bravo – Opera Index, Jane Shaulis and Joe Gasperec, the dynamic duo who made this magnificent event possible!
When we left this elegant room it was snowing outside-the first flakes of winter. To Judy and I, it was like the confectionery sugar sprinkled atop the pastries at our local Italian bakery. How sweet it was and bravi to all!