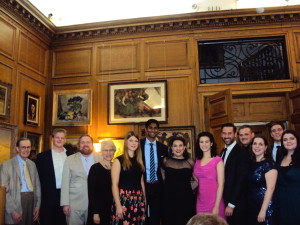 On the evening of Tuesday, November 10th, The Gerda Lissner Foundation in association with the Liederkranz Foundation, introduced the 2015 winners of the Lieder/Song competition. Stephen De Maio, President of The Gerda Lissner Foundation, spoke enthusiastically about the merging of the two organizations for this special occasion. This intimate elegant evening was held at The Kosciuszko Foundation in New York City. The ebullient host for the program was Brian Kellow, Features Editor of Opera News and the singers were accompanied by pianist extraordinaire Arlene Shrut. Mr. Kellow with his wit, anecdotes and knowledge introduced each award-winning young artist and kept the proceedings moving along at a brisk happy pace.
Michael Maliakel sang "Wer sich der Einsamkeit ergibt." His is a "dark" bass and his subterranean resonance was used with elegance and style. His poetic longing was expressed as if by Schubert himself. His vibrato was like the great Italian basso's of old – a rare breed.
Debussy's "Apparition" was beautifully sung by soprano Liana Guberman. Ms. Guberman's passionate outbursts and the music evoked the score of Pelleas and Melisande and propelled us to a higher sphere.
Erik Larson beefed up all his vocal resources to beguile us with "I hear an Army" by Samuel Barber. His declarative skills combined with his expressive baritone made for compelling listening.
Emily Misch sang "Amor" from Brentano Lieder. This is a dazzling showpiece very much in the Zerbinetta league. Misch's coloratura flights were spellbinding her vocal fireworks made the evening feel like the 4th of July!
Soprano Sonja Krenek sang Samuel Barber's "The Desire for Hermitage" in a powerful sumptuous soprano with a nice "dark" quality.
Tchaikovsky's "None but the Lonely Heart" was given a powerful reading by mezzo soprano Anastasiia Sidorova. Her rich beautiful mezzo evoked memories of Eula Beal, her gown of orange poppies framed her like a portrait in the Hermitage.
Barbee Monk sang Strauss "Zueignung" with a soaring soprano well suited to the music's almost Wagnerian flow. The finale is triumphant with expectation and hope. Ms. Monk was a herald of song.
Kevin Ray, Wagnerian tenor more than proved his versatility with a rousing and stirring Italian song made popular by Ezio Pinza and Giovanni Martinelli. His majestic and impassioned singing of "L'Ultima Canzone" by Paolo Tosti gave the night an Italianate flavor. His ringing note at the finale was thrilling as was his caressing tone throughout.
Josh Quinn sang Schubert's "Fahrt zum Hades." His bass baritone was pleasing and plangent, acting with his every word and gesture.
Steven LaBrie sang "Intima" by Esperon. His visceral baritone sang this Spanish song with the special brio and machismo and the spirit of the troubadour.
"Du bist die Ruh" by Schubert was sung by Sean Michael Plumb whose baritone seized every nuance from a pianissimo to forte with flair. He captured Schubert's longing and gave us all a piece to take home.
The reception that followed allowed us the privilege of chatting with artists and friends. Sopranos Elinor Ross and Elaine Malbin, Michael Fornabaio Vice President, Cornelia Beigel Secretary and Karl Michaelis and Barbara Ann Testa Trustees from the Gerda Lissner Foundation, Gloria Gari from The Giulio Gari Foundation, Maestro Eve Queler as well as Glenn Morton and Ken Benson from Classic Lyric Arts, Scott Barnes acting and opera coach and Christine and Al Palladino from The Columbus Citizens Foundation and Brooklyn's Bill Ronayne from The Mario Lanza Society.
An evening of song with young singers and friends made for a wondrous start of the holiday season in the Big Apple! We took a big bite and savored the delicious memory!